"I have the poooooower!!"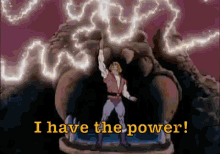 As a child, this is something that I would yell quite frequently while running around with my plastic Power Sword or sitting in front of my Eternia playset or Castle Grayskull with my many, many action figures. Because as a kid, He-Man was life. He-Man was the guy. The bad guy was a freakin skeleton and there were people in this world who rotated their single eye based on their mood, floated and did magic or just rode a giant effin' cat into battle. When my cousin and I would get together, we would spend the whole first night meticulously setting up the figures and the castles and then spend the entire next day raging epic battles that eventually crossed over into the multiverse because Barbie's dreamhouse needed a reckoning. He-Man and The Masters of the Universe were the shit and I loved them.
Yet, this is one of the things from my childhood that hasn't fully carried over to my adulthood. There has not been a ton of He-Man from the time that I was five to me being almost forty. There have been rumors of a new live-action movie, sans Courtney Cox I would imagine, and there have been some pretty cool comic arcs, most recent Injustice vs Masters of the Universe, but other than that, He-Man has kind of stayed in the '80s and in a special nostalgic place within my heart. Occasionally, I'll call Hudson the Cat, Battle Cat as he follows me from room to room, something I just recalled was He-Man related a few months ago. Nostalgia slipping through the cracks I suppose. Besides that, I mostly just smile when I see things like a new Masters of the Universe Funko line and think back of all the great memories spent at Castle Grayskull as a kid.
Well, that's all about to change.
Yes, today is Ted Lasso day and I can't wait to dive back into the soul hug that that show is buuuuuuut I'm turning to Netflix for a different kind of soul hug. The type of soul hug that brings you back to your childhood while remembering the simpler times. The times where you would set up your action figures on the fireplace and get ready to call the people of Eternia into action against the evil Skeletor, who had more of a prominent role in the stories I would play out with my figures than he actually did in the original cartoon series. Seriously, look it up. Skeletor only shows up in half of the cartoons. I know, I was kind of floored too when I discovered this.
That little nugget is beside the point because my friends, Netflix, through the vision of Kevin Smith, are bringing us a new animated He-Man series. A series that will tell a more serialized story while exploring the characters and locations that I loved as a child with a tremendous voice cast. Kids, Mark Hamill will be Skeletor. What more could you ask for?! Masters of the Universe: Revelation Part I drops today and I've literally been counting down the seconds to where I can sit in front of the television, try and fight back tears, and become reacquainted with some old friends.
Just watching that trailer again now and I can't help but feel overwhelmed with emotions that have been dormant for so long. I've missed Eternia. What an epically huge part of my childhood this place and characters were. And now, at almost forty, I'm going to be reunited with them for the first time in decades. It's a lot to process but at my core, I'm stupid excited for the Mrs. and me to finish watching BBQ Brawl and Ted Lasso, to sit in my living room with a cold beer and Hudson the Cat, turn on Netflix and dive heart first into what seems could be the finale to a story that started when I was a child. And with Kevin Smith at the helm, I just know that this story and these characters are going to be served the justice they deserve. The justice I would bring each time I sat down with my action figures and began a new adventure.
So, thank you Netflix. Thank you, Kevin Smith. Thank you for allowing me to come back home, to a degree, to a place where I always had the power and magic was more than just spells. It was a man, his badass sword, and a world of adventure waiting to be discovered. A place where we all could be masters of the universe. What a gift.