Geeklings, I'm sorry I've been away. I took a few days off to recover some of my brain electricity so I can take this week on full tilt boogey, but apologize for those of you who were like "Where's my I Am Geek".  Fear not as it's time to start ourselves a new week, and what better way than a new Week In Geek. Let's break this bad boy down.
1. 
The Knife of Never Letting Go– I choose this book as a placeholder between The Fireman and End of Watch. You know, one of those books that would be a quick read and entertaining enough to get me to the next Stephen King book. I was aware it was part of a trilogy but was focused more on it being something to breeze through. What I wasn't expecting was how tremendous the book was! Coming off the highs of The Fireman, I fully expected some down time with my story selection and that wasn't even the case here. Not only does this book go at a break neck pace but it also includes some tremendous characterization, feels that come out of no where (and hurt), and a cliffhanger ending that made me question what to read next. Loved, loved, loved this book and can't wait to jump into the next one. Just go easy on me as you've sort of broken my heart…
2.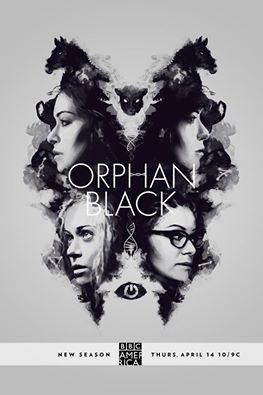 Orphan Black season 4 finale- Covering the Orphan Black reviews for Fan Fest has been awesome especially considering how it sort of fell into my lap (well I kind of grabbed it and ran away laughing in glee). It's been a great experience writing about a show I've been a fan of since jump street and having other people read those thoughts. Trippy actually. Anyway, season 4 will conclude this Thursday and I'm curious to see how they bring things to a close and set up what could potentially be the final season of the show. Plus it'll be my last time to see Tatiana Maslany on TV for, like, a year…sigh
3. Game of Thrones episode 9- (insert the trumpets of doom) Any one who watches Game of Thrones knows that episode 9 usually comes in like a kick to the junk. With this season having nothing to hold it back, book wise that is, anything can happen and that anything seems to be war. In seasons past, episode nine, has taken place in one location (Battle of Black Water and the Wall) and I'm thinking this week will be more of the same as the shows two most famous bastards go to war, and based off this trailer, Braveheart style. Ugh how will you ruin my soul this time Game of Thrones?
4. Injustice 2– While I haven't played a video game in a long, long time (last thing I played was Last of Us and it's probably the best game I've ever played. Also it ruined my life but that's besides the point) I can't help but be excited about the new Injustice game, and that's mostly coming from a comic book fan point of view. One of the great things about the first Injustice game has been the digital comic, and I'm kind of secretly (not so secret now) hoping for a comic sequel to go alongside with it. Anything to keep this dark turn of Superman going. I felt the ending of the game left the door seriously open for a sequel and maybe we can get the Batman vs Superman battle we deserve. Here's hoping.
5.
WWE Money In the Bank– Easily one of my favorite wrestling ppvs of the year and this year has a pretty solid card. Call it the 12 year old forever trapped inside my mind, but I just love watching idiots do crazy stunts while using ladders. It truly is the little things in life. Plus I get to watch it with my buddy and his kids, and that's become an added bonus. Kind of like a passing of the torch. It also means that from 9 o'clock on I have to stay away from the internet… spoilers are real and the devil.