Geeklings, how are we doing? Have we survived last nights Walking Dead? I'm going to be honest I'm still kind of wearing that episode which is exactly what it intended. Someone doesn't put an episode like that out for you to forget it. I'm still looking for my hug and someone to say "it's going to be alright", and I know that it's not coming. There's no "sorry your television show ruined your life" door to door hug package (but there should be). But even with all that gloom and savagery I have this feeling of pure elation. Last night I wrote my very first Walking Dead review (it's right here for those interested) which I knew going in was a huge opportunity for me. The writing process wasn't easy either as I had been thinking about writing that piece all week and when push came to show I had a tough time gathering my thoughts and feelings. But I was able to finish writing it, and I'm happy to say at this stage in the game the review has been read over 5,000 times making it my largest column ever and has received positive reviews from friends and strangers alike which is the biggest compliment ever. I'm a little humbled and a lot excited so I just wanted to take the chance to thank everyone.
When I started I Am Geek a large part of it was for me and giving myself an outlet to talk about the things that I love. We are rapidly approaching the one year anniversary and in that time this little website has over 250 articles and has lead to a writing gig at another website (thank you Fan Fest News) where I'm kind of getting a taste of something I love. Being able to talk geeky with you guys and writing television reviews has actually turned into one of my favorite things in life. A door has been set before me and I just want to kick it down. So, I just wanted to say thank you Geeklings. For reading this little website here and following me over to Fan Fest for the columns I write over there. I know I say this all the time but this is the start of something. I truly feel that and it's a tremendous feeling. It's all about having that drive and right now I'm full of it.
Now with that being said it is Monday and it feels that on Mondays we do something specific here at I Am Geek… I wonder what that could possibly be? Oh, I know. Monday must mean a brand spankin' new Week In Geek! Oh happiest of happy days. Let's break this week down Geeklings.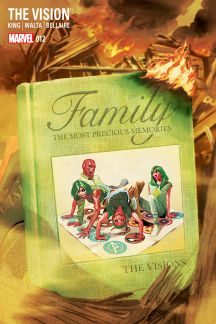 1. The Vision #12– It seems like just yesterday that I started binge reading this book and falling head over heels in love with it. As you know by now I read a lot of comics (whaaaaaaat) but there is something about what Tom King has done with The Vision that has made it one of the best series I have ever read. Seriously, I put this on Matt Fraction Hawkeye and Brian K Vaughn Y The Last Man levels. This is unlike any super hero comic you have ever read and delivers a book that questions the idea of normal. Or better yet questions the idea of what it means to fit in. It also blurs the lines of family loyalty and friendship along with testing the limits of what someone would do for the people they love. Or if they even understand the concept of love. I am sad to see this series wrap on Wednesday but am already excited for the place it'll hold on my comic shelf. This series has been truly special from the art to the narrative and if you call yourself a comic book fan then you need to get your eyeholes on this stat.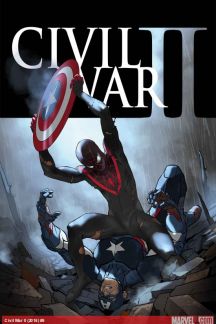 2. Civil War II #6– This series has been infuriating. Most of the issues just spin wheels and then deliver a crazy twist at the end to sucker you into reading more. Yet here I am waiting for the newest issue like a sucker. The new Marvel Now 2.0 has already started the next phase of Marvel stories and we can thank the huge delays for this story not being complete. But I am curious to see how our latest twist plays out considering it concerns one of my favorites, Miles Morales. There is huge potential for some incredible story lines to spiral out of this and a lot of them concern Captain America Steve Rogers. I'm just hoping that these last three issues tell a tighter narrative and pack a little more emotional point because at this point Civil War II has been a bust. Marvel Now 2.0 seems promising but in order to fully embrace I need to know how Civil War II wraps up. So, let's get to that, eh?
3. David S Pumpkins- This. This for days and days and days and days. Any questions? Also potential Halloween costume idea.
4. Logan trailer– So this little nugget dropped last week and left me feeling a little torn. On the one hand I think it looks awesome and seems like it could be a fitting closing to the Wolverine trilogy. On the other hand, I loved Mark Millar's Old Man Logan comic and don't see how it could work in the Fox Marvel universe considering they don't have the rights to 3/4 of the characters needed for this story. Plus the Wolverine movies haven't exactly been a shining point for the X-Men movie franchise, but like I said I'm holding out hope that this can deliver. The trailer doesn't give a lot of story points away but shows a world where mutants are no more ("no more mutants" ?) and everything has passed Logan by. Sounds like it could be promising
5. Donald Glover as Lando- It was announced on Friday that Donald Glover (of Community fame) had been cast to play Lando in the upcoming Han Solo films, and if you take a second to think about there is literally no one else in the world who would have been a better choice. Seriously. Give it a few minutes and think it over. Can you think of anyone else? No you can't because there is no better choice. I am a huge Donald Glover fan and can't wait to see him bring the charismatic, sort of slimey, sort of awesome Lando to life. Plus maybe we'll get to see how Han ends up with Millenium Falcon. I'd be cool with that. With Rogue One still on the horizon I have to say that these Star Wars side stories are shaping up to be something kind of cool. At least on paper.