Geeklings, a what's going on with you?! I hope everyone has survived their Monday and is gearing up for what is sure to be a kickass Tuesday! How's everyone been? I feel like I haven't been here in a minute, and that's probably true as I didn't get a chance to write this weekend, but I've already got like three to four columns planned for this week which means a whole bunch of fresh content for your eyeholes. What could be better news on a Monday than hearing that there is a bunch of hot, fresh, I Am Geek content coming your way?
Yeah, I couldn't think of anything better than that either.
I do know that part of the reason why my writing schedule has been a little wonky later is that I've been missing my morning gym sessions which means I have to go after work. You know, the time I would typically be writing. That happened again this morning which is why the Week In Geek is coming at you a little later than I'd like. But it wasn't my fault. I woke up and was set to get ready to go to the gym and everything buuuuuuut I had some really messed up nightmares last night (Alyson woke up cause I was screaming… or grunting… or something that showed panic) and I had a tough time recovering. It was still dark outside and I didn't want any part of that. Not even a little bit. All this is a long way for me to tell you why this column is coming out close to eight o'clock.
Now that that's out of the way, you guys went to get into the Week In Geek?! Cause I'd rather not relive the whole "Kevin had nightmares this morning" thing… still has me rattled.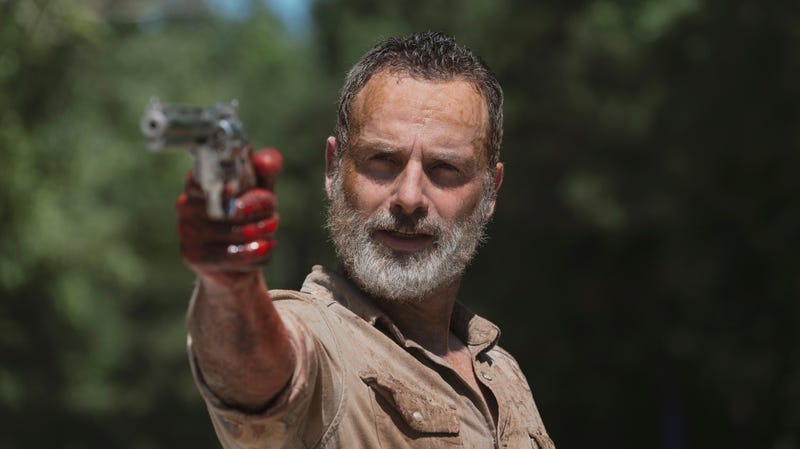 1. The Walking Dead movies- Last night The Walking Dead did something I wasn't expecting… reignited my passion for the series in a big way. This is something I plan on tackling a bit more in-depth during tomorrow's column, but in the meantime, The Walking Dead universe is evolving. Last night's episode really felt like the end of the series as we know it and now something bigger and more exciting is on the horizon. For starters, the promise of movies. Granted, they will probably be movies made just for AMC, like they should be, but movies none the less. Movies that will help expand and further this universe in ways it hasn't before. Even in ways, the comic hasn't done. We'll get into this more tomorrow but for now, know it's an exciting time to be a Walking Dead fan.
2. Stranger Things Day- Tomorrow, November 6th, is the day that Will Byers was taken by the Demogorgon to the Upside Down. Naturally, that means it should be Stranger Things Day! What comes with Stranger Things Day? Well, hopefully, a release date and a trailer for season three. That would be ideal, although I would happily take one or the other. If the rumors are to be believed, and hopefully they aren't, we're not going to catch a glimpse of Hawkins until the summer of 2019. Maybe Stranger Things Day will dispell that rumor. One thing is for certain, you should break out your favorite Stranger Things t-shirts (such a tough choice), plan a mini binge session, and hope for something awesome to drop on social media. Fingers crossed!
3. Marvel Knights Returns- I'm sure only my hardcore comic book readers will know this but back in the late 90's there was a series of Marvel comics known as Marvel Knights. Marvel Knights was used to kind of step away from the larger Marvel Universe's continuity and provide more contained stories for some of the lesser known characters of the Marvel U. We're talking characters like Daredevil, Black Panther, Punisher, and more. It was a highly successful series that really helped re-shape and re-define Marvel Comics. Eventually, the line of Marvel Knights transitioned to the main Marvel Universe and the series kind of faded. Until Wednesday that is. The Marvel Knights line will be returning to celebrate the twenty year anniversary of the first printing. This new book will be helmed by Donny Cates (who is killing it right now on various different books) and looks to put the Marvel Knights line back on the map. It has all the right nostalgia feels to it along with the excitement of a new Cates series. Plus, Daredevil.
4. Tuesday- Vote! Vote! Vote! Vote! Vote! Vote! Vote! Vote! Vote! Vote! Vote! Vote! Vote! Vote! Vote! Vote! Vote! Vote! Vote! Vote! Vote! Vote! Vote! Vote! Vote! Vote! Vote! Vote! Vote! Vote! Vote! Vote! Vote! Vote! Vote! Vote! Vote! Vote! Vote!
There you have it Geeklings, all the best things to get all types of pumped for this week. What has you the most excited? Sound off in the comments with what's got you geeking out or you can drop me a line on Twitter @iamgeek32. Let's talk about the week ahead.