Geeklings, Happy Memorial Day to you all! I hope your kickoff of summer has been going a bit better than mine. After work Saturday, we went to a BBQ where I delved in quite a bit of rum and good times were had. Not much of a rum drinker so it was more of a social experiment. Turns out Rum Kevin isn't so bad. I could see him popping in from time to time. It was Sunday morning where things took a turn though. I'm not talking hangover, I'm talking plague.
You see Geeklings, my adorable niece recently had a violent stomach bug. I'm not going to get into the particulars but let's just say it was a double feature. Use your imagination to fill in the blanks. From there my sister got the bug and then everything seemed alright… until Sunday morning. Alyson got it mid-day yesterday but it didn't really kick in until today. My brother-in-law got it yesterday and then my mother in the middle of the night last night. This thing is spreading through my family like wildfire. Needless to say, I feel like I'm on borrowed time. I've done the math in my head and the probability of me getting this seems highly likely. I don't think you can properly fathom the mental anguish this whole thing has caused me. Every burp or stomach rumble has me wondering, "is this it? Is it my turn now?" I'm scared, my friends.
Like I said, I hope your Memorial Day Weekend has gone a bit better.
So before this thing hits me and ruins my life, I thought I should hop on here and get our Week In Geek in before I lack the ability to type anything other than "help/kill me". Let's get things started with…
Captain Marvel digital release- If you've been getting tired of watching all your Marvel movies over and over again and have been hoping for something new to put in the rotation then I've got some good news for you. Captain Marvel will be released digitally this week which means you can watch it over and over and over again. That means all the Carol Danvers ass kickery. All the Goose awesomeness. Skrulls and Nick Fury galore. Even the mid-credit scene that leads into Endgame that wasn't even in Endgame! It's all yours this Tuesday. Happiest of happy days! I for one can't wait to put this on a constant rotation.
Swamp Thing– This will be the DC Universe's third live-action show, and maybe the one I'm most excited for. If you follow my Fan Fest writings, and you totally should, then you've noticed that I've written reviews for both Titans and Doom Patrol, and while I had higher hopes for Doom Patrol, I really think that Swamp Thing is going to be something unique. Outside of Brightburn, can you guys think of a superhero-themed horror story? Not comics, I'm talking live action. Either can I and I really think there's potential for those types of stories with this medium. Swamp Thing looks to see what kind of horrors it can bring with its ten-episode season, cut short because Warner Brothers are worried about DCU subscription numbers being on the low side. It helps that James Wan (Aquaman, Saw, and The Conjuring) is at the helm because that guy gets horror. On top of that, you can find my weekly reviews over at Fan Fest!
Godzilla: King of the Monsters– I'm not sure how many of you have been paying attention but there has been a shared monster universe in full effect for a while now. It started with the last Godzilla movie and worked its way through Kong Skull Island, and is coming together here with King of the Monsters. Of course, this is all building to a Godzilla vs King Kong showdown but why not have a bit of monster mayhem before that? The first Godzilla in this shared universe was a whole lot of "meh" as it seemed every time there was about to be an awesome monster fight the film cut to some humans trying to survive. Nope. Don't want that. Give me all the monster goodness possible please and thank you. Let's hope that King of the Monsters delivers on the chaos while getting us pumped for Godzilla vs Kong. By the looks of things every Godzilla rogue is in this movie and that on paper is enough to get me pumped.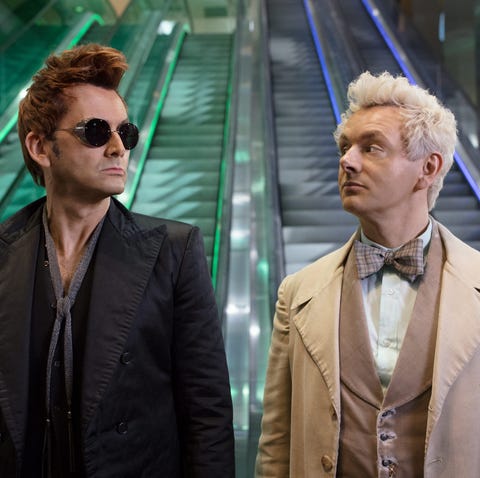 Good Omens– Based on the novel by Neil Gaiman and Terry Pratchett, Good Omens will be dropping as a six episode mini-series on Amazon this Friday. My sister and I got a first look at this show during last years NYCC and I've been very much looking forward to its release ever since. An angel and a demon in pursuit of the anti-christ boasting a cast that includes Michael Sheen, David Tennant, Frances McDormand, Jon Hamm, and Benedict Cumberbatch… I can't think of a better way to spend six episodes.
There you have it Geeklings, all the best of the week to help you survive your work lives. As always, if you've got any Week In Geek suggestions don't be afraid to let me know about them in the comments or over on Twitter @iamgeek32. If you don't hear from me tomorrow it's because the bug finally made its way to me. If that's the case then please pray for my survival.