Geeklings, a very Happy New Comic Book Day to you all. Now, I know if you've been paying attention to comic-related news that may seem kind of like an oxymoron. Things have certainly taken a turn for the comics industry this week and it's left a lot of people with a lot of questions. It seems that Diamond will not be shipping any new books to our local comic book shops starting with books being released on April 1st. Now, of course, the easy solution is to create a Comixology account and get books there even though there has been no guarantee that comics will still be released on schedule. Things are very ambiguous right now but one thing for certain is that Diamond not shipping books is hurting your local comic book shop.
Listen, digital comics are very convenient and hell, I'm guilty of using the platform on a weekly basis. It makes writing this column a bit easier having books early in the morning to read and my LCBS is forty minutes away. With that being said though, my use of the digital platform doesn't mean I don't appreciate or celebrate local comic book shops. Part of the magic of buying physical comics is heading to the shop, grabbing your pull list, and talking trade with the people who work there. How else are you going to learn about new books or things that are happening in books that you're not reading? Sure, this column could help you but how many of you reading this look forward to similar conversations once you arrived at your LCBS? I would argue that it's the majority of you.
This quarantine has affected us on a number of levels and it's impacting small businesses, like our local comic book shops, just as hard. With no new books arriving next week, our favorite shops are going to be in a bit of bind. They still have bills and rent to pay and the halting of new material is going to cause some serious strain. So, I'd like to change the format of our usual Pull List and instead of discussing this week's books, I'd like to give you some suggestions on how to help your local comic book shops during this tough time. Cause, when this is all over you, 're going to want to leave your quarantine cave and head to a familiar place. A place where you can talk about people wearing capes punching other people in the face. A place where they take care of your comfort needs. A place that oftentimes feels like a home away from home. Our local comic book shop has been there for us every Wednesday, I think we can be there for them now when they need us the most.
Gift Cards– This one is the most immediate. Reach out to your local comic book shops and see if they offer gift cards and then purchase one for yourself. This has a few benefits. One, it gives the shop immediate income which is a big plus when it comes to keeping the lights on. Two, when it's time to pick up comics again, you already have money stored away to spend. It's the gift (card) that keeps on giving. Maybe even buy a gift card every week on what you would be spending on your weekly pull list. Once this all blows over you might have a month worth of "already purchased" comics and your shop will be more than happy to give them to you.
Collectibles- Everyone of us has that one item that we eye every time we walk into our local comic book shop. That one statue, figure, signed issue, or art piece that you've wanted to pull the trigger on but keep talking yourself out of. Well, the time is now my friends. A number of stores are still doing curbside assistance, in some cases home delivery, and considering that you'll be spending all the time inside don't you want to look at some cool shiz? Of course, you do! I'm telling you those walls are going to get boring real fast. Why not a statue of Batman punching the Joker or a lifesize cut out of Thanos to spruce things up.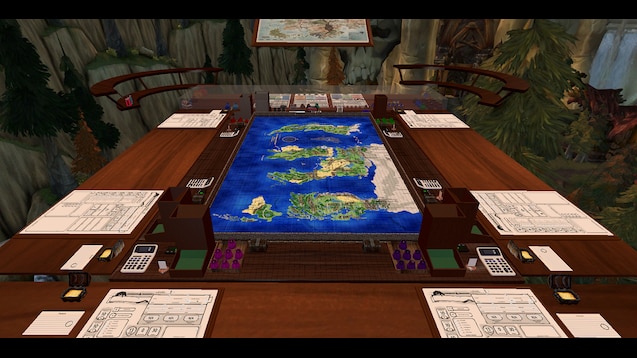 Tabletop Games- If you're like me there's a good chance you've always wanted to play Duengons and Dragons. Maybe even something like Magic the Gathering. Or perhaps a tabletop/card game I don't even know about. Most comic book shops don't just sell comics. In fact, the majority of them sell a number of startup kits or expansion sets for you to get all of your nerdy game needs. If this is something you're into or thinking about getting into there is no better time like the present. What else have you got to do? Plus this makes another fantastic purchase to help your friends out.
Trades/Back Issues- Been waiting to read Matt Fraction's Hawkeye? Or Jonathan Hickman's House of X/Powers of X? How about Doomsday Clock? Good news, while we wait for new books you can read the books you've been putting off. The majority of them are collected in trade and can be found on the shelves of your local comic book shop. Give them a call, see if they have any suggestions based on your pull list or are carrying books you've been curious about and then purchase them. It could open new doors for you as a reader and it helps keep the doors open for the LCBS. Win-Win situation.
The fact of the matter is, there are a number of ways for you to help your local comic book shops and you should explore every avenue to help any way you can. They need you now more than ever. I'm not sure what's going to happen to this column over the next couple of weeks but we'll cross that bridge when we get there. Right now, the most important thing is helping your friends out the best you can. You got friends who are thinking about getting into comics? Point them in the direction of your LCBS. You have birthdays coming up? Get a gift from your LCBS. Round and round we go. Not all heroes wear capes after all.