Have you ever watched a movie or television show with a fake band and go, "man, I'd love a whole album of jams from these guys." I'm talking bands like Citizen Dick, which is essentially Pearl Jam with Matt Dillion so I'm all in, or The Lone Rangers who's first single slapped. How about Stillwater, you know, the band from Almost Famous. Fictional bands are the best and it's a shame that we can't hear their fictional music. I mean, come on, how many Doug fans out there wanted a full album from The Beets? Can't just be me.
But sometimes the gods shine down on us and the fictional bands we love give us the earworms we deserve. Case and point, yesterday on the tenth anniversary of the death of Li'l Sebastian, (insert moment of silence here), it was announced that Pawnee's own, Mouse Rat would be finally releasing a full album. An album that wouldn't just be sold at Andy's shoe shine station, no. An album that you can get on vinyl, cassette tape, or if you're not a hipster, stream through Apple or Spotify.
Mouse Rat- The Awesome Album is coming to our ears, August 27, 2021 and that's enough to make any self-respecting Parks and Rec fan turn into Ben Wyatt when he catches a glimpse of his Iron Throne.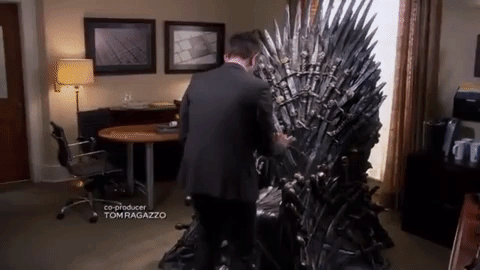 Fun story, I once went to a punk concert with a friend a mine, I say this to sound sort of cool but to also give some context. I wore my Mouse Rat t-shirt, "babe, get my Mouse Rat shirt", and he wore a Clash shirt. Both shirts classics in their own right. My friend believed that his Clash shirt would get more recognition than my fictional band… which was not the case. Throughout the night, both in and outside the pit, I was stopped by people exclaiming their love for Mouse Rat. High fiving me or quoting Andy Dwyer, people were eager to celebrate the fictional band I was supporting while Bad Religion, a very real band, was on stage. My friend, who has not watched Parks and Rec, was befuddled. I though, was victorious in our shirt war and often like to remind him of that. Never underestimate the power of Mouse Rat.
Now, with Mouse Rat actually releasing an album, I can crank those not so fictional anymore fictional tunes all day long. The announcement came with the release of "5,000 Candles In the Wind (Bye Bye Li'l Sebastian", which is already a song that easily gets stuck in my brain. Now, I can play it whenever I want instead of just randomly singing it just because. Can't wait for this song to be one of my most played songs of 2021, right next to "It Was Agatha All Along".
I'm sure some of you are thinking, "If Mouse Rat is getting an album maybe we can get some Duke Silver down the line", and if that's your thought process then I got some good new about that. Duke Silver will be featured on two tracks on the album. I wish we were getting the live version of "5,000 Candles In the Wind" but just seeing Duke Silver's name in the track listing makes my heart fill with your jazz. Parks and Rec is really the gift that keeps on giving.
Here's the full track listing for The Awesome Album-
5,000 Candles In the Wind (Bye Bye Li'l Sebastian)
The Pit
Sex Hair
Catch Your Dream (feat Duke Silver)
Two Birds Holding Hands
Ann Song
The Way You Look Tonight
Menace Ball
Remember
I Get A Kick Out of You
Let's Call the Whole Thing Off
Lovely Tonight
I've Got You Under My Skin
I Only Have Eyes For You
Pickled Ginger (Land Ho!)
Cold Water (feat Duke Silver)
That's a track list that would make even the most devout Pawnee citizen swoon with happiness. The only thing better is if this was brought to us by our friends at Entertainment 720. Where's Jello Shot?
I'm not sure if these songs were recorded during the show's run or if Chris Pratt, sorry, Andy Dwyer recently went to the studio to record them. All I care about is that they're becoming available. That we can share the tremendous sound of Mouse Rat with people who may not have seen Parks and Rec. And maybe we can all fall into the pit together.