Thank the gods it finally happened. The wait was killing me.I know that it was a foregone conclusion but I've been a fan of enough cult shows (Fringe, Community, and Hannibal) to not believe renewal rumors until they're announced because nothing is official until the network says so. How the hell did we not get a fourth season of Hannibal?! NBC is the worst. The. Worst. They get these amazing shows like Community, Hannibal, and Parks and Rec when it's clear they don't deserve them, and then go out of their way to try and kill the positive buzz. Ever since Seinfeld left it seems that NBC goes out of it's way to hate me. Sigh. This is a topic for another day. Today is about celebration.
It was announced early this morning that Stranger Things would be returning for a second season. I know, I know this isn't very shocking as it was probably one of the easier things to predict this year, but it doesn't mean it doesn't make me happy! More Stranger Things coming in 2017! That's like the best way to kick off a day that was already New Comic Book Day.
It looks like the second season will have a bit of a time jump (fall of 1984), not much, which will help with the kids aging because that's what child actors do. They get older so we're really looking at a limited window to get this story in with the same characters. Unless they do a greater time jump in future seasons. Future season. Look at me getting ahead of myself.
While the wait for 2017 may seem long I wouldn't be too worried. The Duffer Brothers have been talking about season two pretty much immediately after everyone finished binge watching and we all know that it'll play more like a sequel than a continuation. Which I think is a unique way to present a new installment to a television program. While an anthology type show could have been interesting, think in the style of American Horror Story, I'm glad that the Duffer Brothers stayed away from that.One of best things about Stranger Things is this cast of kids/characters. I want more of their story. It's not over yet (clearly) and I want to see it through to completion.
The other promising thing is this trailer comes with all the episode titles included which means the Duffers know the story they're going to tell. I would be willing to be that a large majority of season two has already been written or maybe outlined which makes the transition to filming that much easier. Most shows take time to film because stories need to be written. The Duffers are very on top of this narrative which makes me believe the wait won't be as bad as it could be.
The fact is Geeklings, my obsession over Stranger Things has done nothing but grow since I watched it with Jen a month and a half ago (hiiiiii Jen!). Like if I didn't know I was a person who obsesses over things (who me?! Never!) I would be slightly worried. The season two renewal just helps validate that obsession. Allow me to break down what's been happening with me and my love for this show.
For starters I've watched the entire season twice and a couple of episodes a few times (that finale). I can't get enough of it. I'm actually fighting the urge of going home tonight and watching the first episode again before Mr. Robot starts. I don't know if I could fight it though Geeklings. I'm too excited about season two.
My current phone wallpaper is the fan art you see to the left. I am also getting this printed and framed for the Fortress of Nerditude. I need to see it every day hanging on my walls.
I didn't download the soundtracks in full, but I downloaded enough tracks to splice into the playlist Johnathan made for Will. So when I listen to music from Stranger Things I hear classic 80's tunes mixed with score selections from the show. It's just as awesome as it sounds, and if you want the track listing let me know in the comments.
I currently own four Stranger Things t-shirts. Four. I only bought three of them though. Jen bought me one that I got yesterday about the Hawkins Radio Club that is full of awesome 80's fonts with the Stranger Things/Stephen King font as the closer. I'll actually be going to my mother's house to pick up my other newest shirt which is a copy of Dustin's Artichoke Festival tee. Yes, I still have mail delivered at my mother's house. How else am I going to get left overs? Kidding Mom, kidding.
Last week Funko released sketch images of an Eleven and Barb pop vinyl figures and I about lost my shit! I. Need. These. To. Become. A. Real. Thing. Immediately. I'm already banking on spending all my money on all of the Stranger Things pops. Outside of Guardians of the Galaxy I don't have any other full group of characters, and it would be damn near impossible not to bring this band together.
Today NYC Comic Con announced that Eleven and Hop (Millie Bobby Brown and David Harbour) will be present on the Friday date which just so happens to be the day we're going!! I may or may not have gotten a little choked up with excitement. Can you say photo ops and an autographed box of Eggos? I can.
Confession: I follow all of the Stranger Things kids on Instagram. It's like the gift that keeps on giving. They're all so wonderful and love the show just as much as you think they would.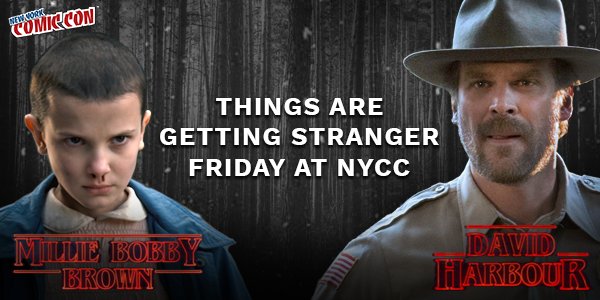 See what I mean? Stranger Things has sort of consumed me since it's release and it's been one of the best things to happen this year. I haven't had a TV show hit me like this since Breaking Bad and Community. Don't get me wrong there is tons of Game of Thrones excitement but Stranger Things is something else entirely. It is the perfect mix of just about everything I love. There are classic 80's nostalgia feels with a story that looks like it could have been a Spielberg film or a blending of all the awesome adventures of a Stephen King novel. Not to mention there's enough unresolved story to lead to theory discussion, which is one of the greatest gifts a work of fiction could give, and the characters are tremendous. You mix all those things together it's like a perfect storm devised just for me. The better question here would be, how could I not be obsessed with this show? I love it so.