As many of you know I spend a great deal of time throughout the year reading pretty much anything I can get my hands on. We're talking comics, graphic novels, novels, online articles, instruction manuals it doesn't matter. If it has words associated with it then there is a pretty good chance that I'm going to attach my eyeholes to it. About two years ago (maybe three?) I started using Goodreads to keep track of the books I was reading. I used to actually keep a notebook where I would write down the book title and the date I started/finished the read but looking back now it seems so archaic. I would keep up with this list pretty hardcore up until about, let's say, late October or November, where I would just write the book down once it was finished. Almost like the act of writing things down in a notebook became too exhausting near the end of the year. Maybe it was taking up too much time from reading? I don't really have an explanation for this. I get lazy too I suppose.
I instantly fell in love with Goodreads because it was doing all the things I used to have to write down (I really hate my hand writing). All I had to do was sign on to the app and update my progress and it took care of the rest. I even could set reading challenges (which I was doing any way) and watch the percentage tick up throughout the year. I love stuff like that. Goodreads has quickly become one of my best friends and I'm on there at least once a day to update the progress of whatever I'm reading. For those wondering this years reading challenge is set at 42. Let's do this!
Last week I had an idea though. I have this forum with I Am Geek and not everyone follows me on Goodreads (it's not the social media hot bed like Faceyspace or Instagram) so not everyone knows what I'm reading. I don't talk about every book I read and sometimes that's a shame. When I do my best of the year column I talk only about the books that were released during that year, mean while, there are tons of books I have read from other years that are just as good if not better. Books that deserved to be showcased a little bit. Which leads us to this column. Going forward, at the conclusion of every month, I'm just going to post a reading update here on I Am Geek. What I've read for the year and some mini thoughts on the books. Thought it would be a fun way to share some books and hopefully get you guys involved as well. Please feel free to share what you read during the month in the comments or you can find me on Twitter (@iamgeek32). If we've read the same thing and your thoughts differs tell me. I love book discussions and hopefully we can meet here every month to chat.
Without further delay here are is my list of January books.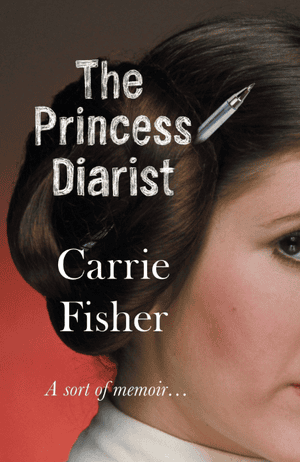 1. Princess Diarist by Carrie Fisher- This was my first Carrie Fisher book and probably won't be my last either (I already have Wishful Drinking on my wishlist). What I really liked about this book was the vulnerability that was always present. Whether it was Fisher reflecting on her time as Princess Leia or sharing journal entries from her nineteen year old self, Princess Diarist really does a good job of stripping away the pop culture iconness (word?) and showing there is a person underneath all this. A good deal of the book focuses on the affair with Harrison Ford and some of the journal entries are a bit overly dramatic, but I dare you to read things you wrote when you were nineteen and tell me yours are any different, but overall it's a good/fast read. If you're looking for info on the filming of the first Star Wars film you're not going to find a lot of it here. If you're looking to understand the actress who played one of the most iconic characters in film with some chuckles and a dash of heartache, then this is your read.
2. Star Wars: Lost Stars by Claudia Gray- When I told you guys that this was going to be the year of Star Wars, I wasn't lying. I'm planning on reading a lot of Star Wars novels this year (mostly cannon but also looking to close out the Thrawn Trilogy) just to spend more time in this universe. As for Lost Stars I thought it was a pretty solid read all around. The book takes place across the three original films (Episode IV-VI) and leads up to The Force Awakens which is pretty interesting seeing the events of the film through the eyes of others in the galaxy. For me, one of the biggest highlights of this book is how it adds more depth to those within the galaxy. The Empire actually has a face , something we've seen in Rogue One, and the reactions of people to events like the destruction of Alderaan vary depending on what side they fall on. Both sides, the Rebellion and the Empire, are allowed to voice their opinions and that leads to more depth to the Star Wars universe. Outside of that the story is something you've read or watched before; two friends (a guy and a gal and you can see where this is going. Star crossed lovers in the most literal sense) who join the Imperial Academy and events throughout the war tear them apart. While one follows the Rebellion and the other remains loyal to the Empire their paths remained intertwined. Granted, some of the events in this book come across as just a wee bit convenient but I'm willing to overlook them and only give a slight eye roll. The characterization is excellent and the story flows organically without shoehorning in events from the original trilogy. This is one of the new cannon books and is totally worth your time if you want to get a better idea of what it was like for those who watched the Death Star explode with friends on it.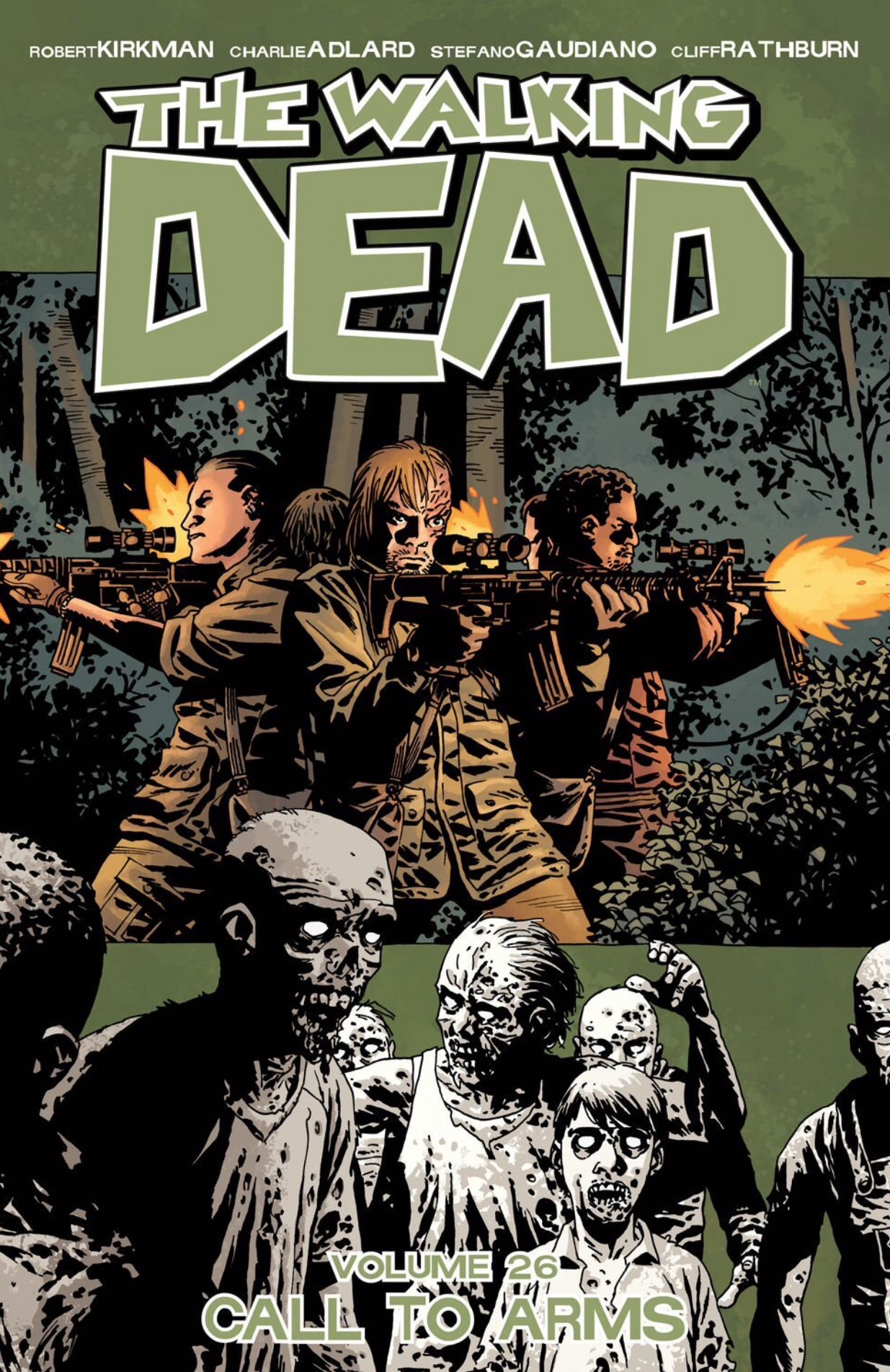 3. Walking Dead vol 26 by Robert Kirkman– I had been putting this one off for awhile but with no Walking Dead until February I figured it was time to dive into this one. Vol 26 pretty much sets the table for the upcoming Whisperer War but also provides some excellent character moments. We see a dramatic shift in the way Rick governs, Maggie and Andrea have a nice little reunion, Dwight's status within the community changes again, and Negan steals the show. My strongest thought after I finished this volume was that Negan is probably the best character Kirkman has created in this universe. Whether on screen or on the page he demands your attention, and by far he has the most impact in this book. Especially when you get to the end.
4. Star Wars Vol 1- Skywalker Strikes by Jason Aaron- Yeah, yeah, yeah, I know. It's a lot of Star Wars for one month but I regret nothing. Having just finished the first volume of Darth Vader comics, I thought it was time to give Jason Aaron's Star Wars comics a turn, and I'm glad I did. The comics take place between A New Hope and Empire and have a lot to do with Luke trying to find his path as a Jedi. There's also a big confrontation between the Rebels and Vader, Boba Fett does bounty hunter things, and Jabba the Hutt. I will say this, Jason Aaron does a terrific job of capturing the voice of these characters, especially Han. If you're looking to expand the Star Wars universe, like I am, then this is a great avenue for you.
5. Coraline by Neil Gaiman- I don't think I'm a huge Neil Gaiman fan but I continue to read his books which is interesting. Maybe subconsciously I'm a bigger fan then I thought? I don't know. I figured I'd give Coraline a spin because I've heard good things about and, if I'm being honest, it seemed like a short book to boost my reading stats. This was just okay for me. Not once did I feel overly excited when it came to reading or overly disappointed. The story is a little dark at times for kids, which I thought was interesting, but also shares a lot of similarities with Alice In Wonderland, which I found kind of annoying. For such a short book I felt that it kind of over stayed it's welcome, could have ended way earlier, but I didn't hate it. it was just there for me dawg (sorry American Idol review voice in full effect).  I will say that button eyes are all types of horrifying though.
There you have it Geeklings, this be my reading list for January. What did you guys read? Have any of you read any of these? Do your thoughts differ? Sound off in the comments below. Let's talk books for awhile. If you've got suggestions for what to read in February, I'm all eyes because right now I'm not sure what I'm starting tomorrow. The struggle is real.