Geeklings, it's the Monday after SDCC and there are tons of things to be excited about. If you came here on Thursday you saw that we touched base on some of those items but since then there have been trailers and announcements galore and it would be easy to take today's Week In Geek and fill it with a whole bunch of SDCC news, buuuuuut here at I Am Geek we don't do things easy. All that SDCC news you're looking for is coming tomorrow, something to look forward to because today is for all the things that are coming out this week.
So without further ado allow me to introduce you to the latest edition of the Week In Geek!
1. Shark Week- Is it me or is it not officially summer until Shark Week happens? Last night was the start of everyone's favorite week of summer and for the next seven days, the Discovery channel will be filled with the scariest creatures on the planet. Yes, you read that right. Scariest. Sharks. With their soulless eyes and creepy theme music. Don't get me wrong, I love Shark Week as much as the next guy but I watch it because I want to know my enemy. Cause when sharks eventually learn to leave the water, and they will, I want to have as much knowledge as possible to defend myself.
2. Teen Titans Go! The Movie– If you're still recovering from the "what the hell was that"-ness of the DC Titans trailer then you might want to turn your attention to the upcoming Teen Titans Go! movie that is coming out this Friday! I never watched the cartoon religiously but every episode I watched I enjoyed, and you better believe that I'm going to be there for this movie. The fact that it currently has a 100% on Rotten Tomatoes makes it even more exciting for yours truly. DC could use a win in the movie department and these loveable little goons might be just the recipe.
3. Castle Rock- Stephen King is coming to television and it looks awesome. Looking to expand on the shared universe that makes his books so incredible, Castle Rock hasn't really revealed it's main plot just yet, but I feel the mystery just helps the show. While it's not based on a single King story there will be a number of works that find themselves included in this universe. A number of things have happened in Castle Rock and I would imagine this show might touch on all of them. Out on July 25th.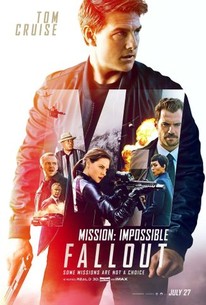 4. Mission Impossible: Fallout- I haven't watched a Mission Impossible movie in quite some time but I would be lying if I said that this one hasn't caught my attention. Each trailer has kind of gotten me a bit hyped, and the fact that I don't know what happened in any of the last movies has only made me want to go back and watch them. After you see Teen Titans Go! why not check out Tom Cruise see how many stunts he can do before he seriously hurts himself.
There you have it Geeklings, all the best things to look forward to this week. What's got you geeking out? Sound off in the comments or you can find me on the Twitter @imageek32. Let me know what's got your attention this week.