Should auld acquaintance be forgot,/and never brought to mind?/Should auld acquaintance be forgot,/and auld lang syne?
Geeklings, we did it! We're here. The end of the year is upon us. As I sit here reflecting on the year that was, I can't help but think of Jason Mendoza when I say "my year started about a year ago…" Doesn't' that kind of perfectly sum up 2019 in a nutshell? It just seems so damn appropriate. 
2019 has been a year, hasn't it? Like any year it had its ups, downs, a part where it started spinning out of control, then went sideways, and finally settled long enough for us to get ready for 2020. Among all that, there were some serious kickass moments in pop culture which means it's time to celebrate them. I know you've been waiting all year for this and I can't blame you. It's time for…
The I Am Geek Best of 2019! 
Now let me preface, despite how hard I try, I was unable to watch/read/experience everything this year had to offer. There's only so much time I have trying to plan a wedding, maintaining a social life, reading, writing, playing video games, and binge-watching shows. Things are going to fall through the cracks. It's a bummer for sure but it gives me things to do in 2020 as new kickass pop culture moments begin to take off. With that being said, I was unable to see The Joker (mostly out of interest), The Irishman (finding three and half hours is tough), Marriage Story (need to figure out when I want to cry), or The Witcher (stop yelling, it's happening early 2020) which will explain their absence from this list. My apologies in advance.
As always, this is my opinion. These were my Top Ten favorite things of the year. I don't expect them to be the same as yours. That's what makes opinions so great! You have one and I have one. I'm down for any and all discussions, debates, and polite arguments with the items you find here. Let's make it fun. Don't be scared to share your lists too. Celebrate the things that made you happy in 2019!
Now without further ado, I present to you The I Am Geek Best of 2019 Part 1 (#10-6)-
Honorable Mentions- Us, Russian Doll, Deadly Class (SyFy), Batman (Tom King), Mr. Robot, The Good Place, and The Office Ladies
Keanu Reeves-

I'm hard-pressed to think of someone who had a better year than Keanu Reeves. From

John Wick 3

to

Toy Story 4

all the way to his show-stealing cameo in

Always Be My Maybe

to his breathtaking arrival at E3, Keanu Reeves stole our hearts this year. I was debating whether or not he made the Top Ten or the Honorable Mentions list and as I was assessing this I looked down at my All Phases of Keanu Reeves t-shirt, that I am legit wearing right now, and knew what must be done. It's a no brainer really. This was the year of Keanu and 2019 was better for it. The best part is that 2020 doesn't look to be slowing down with all the Keanu goodness which already makes the year ahead promising. Keanu Reeves,

you're breathtaking! 
9. Barry- The night Game of Thrones aired "The Long Night" it was Barry that had the best episode of television with "ronny/lily". I'm talking about one of the top five episodes of the year. As a big fan of Bill Hader, I can honestly say that Barry has far exceeded my expectations. This show is darkly funny, deeply introspective, superbly written, and the acting/directing is borderline flawless. Hader is money as the title character but the rest of the cast is right there with him in the spotlight. Sarah Goldberg gave an Emmy deserving performance this season (stellar monologue mid-season) as did Anthony Carrigan in his quirky yet oddly charming Noho Hank. With this show, Hader has given us a character in Barry that totes that line of likeability and "oh crap, this guy is nuts" so finely that when the season finale hit, I was floored. We're talking some John Wick levels of insanity that made for an awesome action piece but worked better as a deep character study. Barry is flawed. Barry is haunted. Barry may not be able to fight his demons but he's going to try. As long as he keeps battling those demons, as long as Noho Hank exists, and as long as Hader and Alec Berg keep churning these compelling stories you will find me in front of my screen every Sunday night.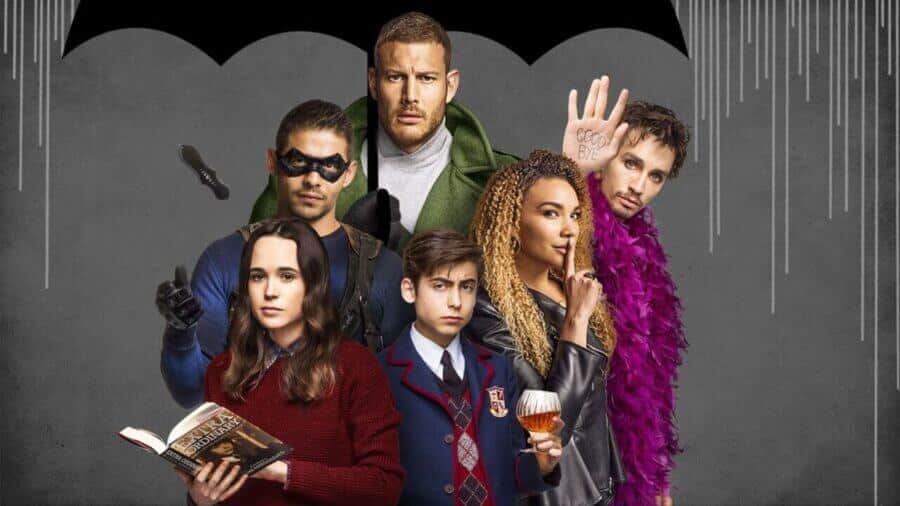 8. The Umbrella Academy- How do you know that something is awesome and worthy of the year's Top Ten? When it comes out in the first two months of the year and you still can't shake it. The Umbrella Academy was one of those gifts from the Netflix gods that come out of nowhere but instantly hooks you. The type of binge where you're mad you're at work instead of with your television. Based off the Dark Horse comic series by Gerard Way (yes, the very same Gerard Way from My Chemical Romance), The Umbrella Academy follows a family of adopted children superheroes and explores what happens to them once they grow up and their adoptive, deranged, abusive father dies forcing an unwanted reunion. Umbrella is charming in all the right ways. At times laugh out loud funny and then suddenly deeply emotional and personal, Umbrella Academy might have been Netflix's breakout hit of the year. With a story that slowly fills in blanks but allows the characters to drive the narrative, the binge moves at rapid speed. You'll want all the answers and be happy to learn there's more to be learned in the upcoming season two. I loved The Umbrella Academy and found it oddly moving… it also didn't hurt that there was a talking monkey who wore suits.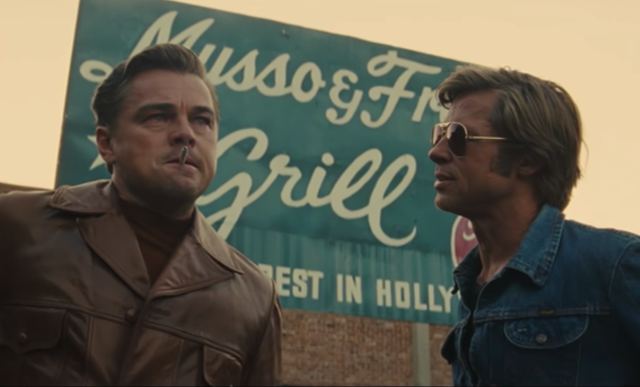 7. Once Upon A Time In… Hollywood– Any time we get a new Quentin Tarantino movie then you know it's a damn fine year.  Once Upon A Time… might have been one of my favorite theater experiences of 2019 and has stayed with me long after my viewing. Part of that has been keeping the soundtrack on constant rotation on my iPod but mostly it's the strong sense of character and world-building. Tarantino tenderly crafts these characters and this story clearly comes from a place of love. I'm happy seeing all the award buzz it's generating and would love to see him take home some of the big trophies to cement his legacy as one of the best of all time. It may be strange to refer to a Quentin Tarantino film as enchanting, especially one that uses a flame thrower so violently, but Once Upon A Time… is exactly that. It sweeps you in from the moment it starts and doesn't let you go until days later… if at all. 
6. The Boys- I didn't know what to expect from The Boys. On the one hand, I was excited for Seth Rogen and Evan Goldberg to be adapting another comic book series (that also happened to be penned by Garth Ennis) but it was also a part of my apprehension as I found Preacher kind of lost its way in the later seasons becoming offensive almost for the sake of being offensive. The Boys was a completely different story. Right off the bat, this felt like a superhero story with the volume cranked to eleven with a little bit of narcotics mixed in for good measure. A story that takes supers off their pedestal and shows you that even the good guys have their share of demons. Demons that might actually leave you wondering if they're at all good. Karl Urban steals the show with his effortless charisma and dangerous charm leaving me wondering why there isn't more Karl Urban in our lives. Jack Quaid and Erin Moriarty have fantastic chemistry and it's their bond that really serves as the heart of the show. But it's Anthony Starr as the hero Homelander that really makes the show in a breakout performance. Starr is incredibly off-putting, creepy, dangerous and somehow charming. Whenever he's on-screen he demands your attention and it's his performance that puts The Boys over the top. Hands down one of my favorite binges of the year and with season two already wrapped, I can't wait for the next chapter of this effed-up universe. Plus, where else are you going to find babies with laser beams coming out of their eyes and the best Spice Girls reference ever?
There you have it Geeklings, halfway through The I Am Geek Best of 2019 list. Be sure to tune in tomorrow for the top five of the list. There's still a ton of awesome that needs to be covered. In the meantime, let me see your best-of lists. Share them in the comments or throw me a line over on the Twitter @iamgeek32. 2019 may be ending but our celebration of it doesn't have to. What makes the top five? Tune in tomorrow and find out Geeklings.