Welcome back Geeklings! How was everyone's Labor Day? None of you better be wearing white today. There are rules that are bigger then us. Here's my question though on the lack of white wearing after Labor Day. When does it become okay to start wearing white again? Is it after Memorial Day or is there some secret Wear White holiday that I don't know about? Seriously. Someone explain this to me because I tend to stay away from white clothing as a general rule. You know, cause I'm just asking for food stains.
I'm going to kind of skip the verbal foreplay today, don't worry there will be plenty this week, and jump right into the Week In Geek because I have a fantasy football draft to get ready for. That actually is the perfect segue into our number one spot this week…
1. Football Season– It's the most glorious time of the year Geeklings. As of Thursday the NFL will return to our television screens supplying joy and heartache while spurring conversations and arguments. Some of you may be excited for pumpkin everything (helloooooooo Shipyard Pumpkin ale. I'm ready) but for me this is my favorite thing to happen all year. Not to mention everyone has a blank slate and there is so much fluctuation from season to season in the NFL. It could seriously be anyone's year. Hopefully that will translate into a championship run out of my New York Football Giants. We haven't made the playoffs in three years, and with Tony Romo going down the division is wide open. Please give me something to cheer for other than the success of my fantasy teams (Team Names: C.M. Punt and Going Balls Deep… yeah, I know)
2. ATL– Donald Glover was hands down one of my favorite parts of Community which put him on my radar. His comedy special Weirdo is highly entertaining and he's actually a pretty fantastic rapper (Childish Gambino). I actually got to see him preform a couple of years ago and was super impressed with his live show. While I think Camp is a better album than Because the Internet there is still plenty of great tracks to take away that I found were enhanced by his live show. With all that being said his new show ATL will premier tomorrow on FX. ATL is written, produced, and starred by Glover and has to deal with the hip hop movement in… well Atlanta (really it's in the title people). Very much looking forward to having Donald Glover return to my television screen, and excited to see what he can do with a show that is completely his. Plus, I'm sure the soundtrack to come from this show will be pretty stellar. Wins abound with this one.
3. Tee Fury Posters– I've been looking to maybe re-decorate the Fortress of Nerditude a bit. Don't get me wrong, I am very happy with the set up but I think it might be time to move some things around and add some new art to the walls. By now my t-shirt addiction is well documented but you might not know that Tee Fury also has a poster section filled with some outstanding art designs which are pretty reasonably priced ($14 bucks). With my birthday coming up later this month (hello cheap plug) I might have told some peeps about some posters that would look really good on my walls. I might have told them in an email with links to the specific posters. I might have also included images right here of the posters I was interested in. I also might have included the size of the poster that was desired. (Mom and Jen if you're reading this check your emails!)
4. Dark Matter by Blake Crouch– I started this book last week, I think it was Thursday, and I'm really digging it. I haven't had the chance to read any more of it over the weekend (I was too busy re-watching the last three episodes of Stranger Things and Game of Thrones season two with Mom) but it doesn't mean I didn't want to. The story instantly drags you into a constantly unraveling mystery. The main character is just as lost in the events transpiring as we are and it helps add to the horror and panic of the situation. We discover things as he does. It helps that the characters are fleshed out wonderfully right from the start, and the book pulls on your emotions. This is another Uncle Stevie recommendation and I'm looking forward to seeing how this turns out (for those interested I'm pretty sure we have an alternate universe story going on here, but not 100% sure yet).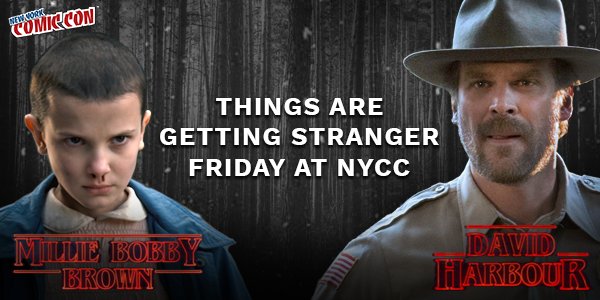 5. NYC Comic Con– Only a month a way and it's already looking like this years Comic Con could be my best one yet. I spent most of last week debating whether or not I should go Thursday (in addition to Friday) and right when I had my mind made up they announced that Stranger Things Eleven and Hop (Millie Bobby Brown and David Harbour) would be attending on Friday. With that Jen and I decided to throw all of our energy into Friday, and have already booked our photo op with Brown and Harbour (eeeeeeeeeeeeeeeeeeeeeeee). I've never done the photo ops before so that in itself is pretty exciting not to mention that Jen and I are planning to really tear it up this year. The closer the con gets the more and more excited I'm getting. Not to mention I'm on vacation that week so yeah, it's going to be pretty sweet.