Geeklings, what is going on?! A very happy Monday to you all and hopefully the majority of you have a short week ahead of you. I am one of those lucky ones having off Thanksgiving and Black Friday and for that, I am very, very thankful. I plan on doing some laundry, maybe trying to finish Sleeping Beauties which has been the bane of my reading existence for the last month, and maybe playing a bit more Uncharted which I know I'm very late to the party but doesn't  make my enjoyment any less. Honestly, I just want to relax and kind of take a breath. Work the last couple of weeks has been a bag of brutal and I wouldn't mind a little time to kind of collect myself and maybe even clean the Fortress of Nerditude a little. I know, dream big.
Thanksgiving may be the highlight of the week but fear not my friends, there are a number of geeky things to get excited about too. Holidays can't stop the geekdom! Oh, you don't believe me? Well, allow me to prove you wrong.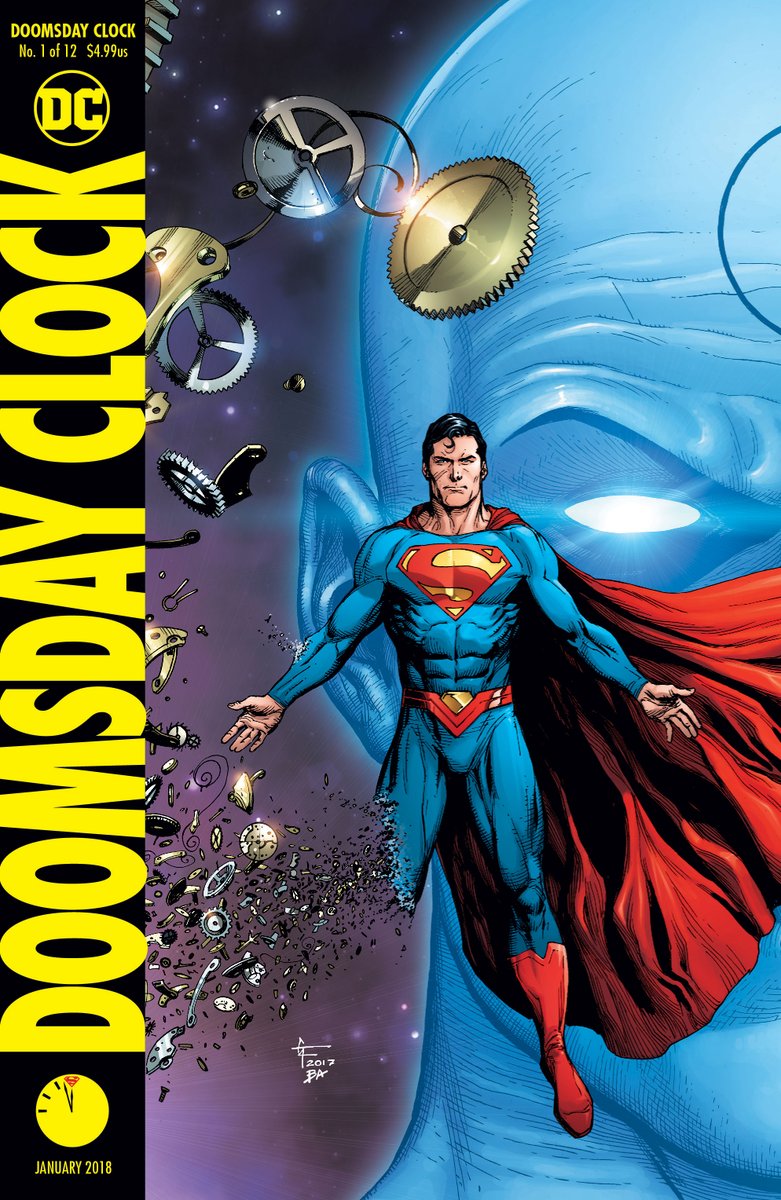 1. Doomsday Clock #1– Geeklings, I have been waiting for this series ever since Rebirth dropped over a year ago. That moment Batman pulled the Comedian's button out of the wall of the Batcave I was in. The idea of introducing The Watchmen to the DC universe has so much potential for amazing things that I can hardly contain my excitement. Think about it, this series could possibly have an instance where Batman meets/has a conversation with Rorshach. Or Lex Luthor meets Ozymandias. What would someone like Doctor Manhattan make of someone like the Joker? Then you have the big draw, Doctor Manhattan, and Superman, which seems to the be what this book is gearing towards. I saw Geoff Johns's Doomsday Clock panel at NYCC and it melted my face. Through this panel I got to read the first six pages of this series, I have a black and white ashcan signed by Johns, and what I can tell you is this book really does an excellent job of capturing the tone of the original Watchmen. I'm not saying that it's just like it but I'm saying the tone is very close. All the advance reviews that I've been reading praise the book for its ability to not only capture the tone and voice but to also seem like a worthy sequel to Alan Moore's masterpiece. It is clear that Johns is giving this story the love and respect it deserves. Doomsday Clock starts off in the Watchmen universe seven years after the "alien" attack and shows us a world where peace has fallen apart. What happens next and how this book will eventually connect to the DC universe is yet to be seen, but I'm all in on this. This will be a twelve issue barn burner and quite possibly the comic crossover we've been waiting for.
2. Crisis On Earth X trailer- DC is really killing it this week with crossover content. Earlier today we got our first glimpse of this years mega Arrowverse crossover and it looks bananas. I know last week I spoke how The Flash might have itself a bit of a problem but this trailer made me feel slightly optimistic that the crossover event can redirect the remainder of the season. Barry and Iris are poised to get married and have apparently invited every hero who has ever existed within the Arrowverse. What could possibly go wrong? How about the invasion of a dark multiverse where the heroes are Nazis? Evil Supergirl. Evil Arrow. Evil Barry. Yes, yes, and yes. This looks to be the CW's most ambitious crossover yet and if it's anything like last years then we're in for a treat.
3. Deadpool 2 teaser- Last week we got our first glimpse of the second Deadpool movie, and while new footage was pretty brief, it was enough to remind us why we fell in love with Deadpool in the first place. This Bob Ross parody was the perfect way to get Deadpool circulating again, and is it me, or does the painting of all the characters from the movie having Thanksgiving dinner smell like a possible real trailer being released this Thursday? Just a theory but I'd be thankful for that.
4. The Incredibles 2 teaser- While this might be the most viewed animated movie trailer of all time, according to an article that I saw anyway, The Incredibles 2 trailer continues the trend of trailers that don't really reveal much of anything about the new movie. I'd be lying though if I said I didn't geek out about the return of everyone's favorite superfamily. The Incredibles have been gone for far too long and their return to the screen next year is most definitely something to celebrate.