Geeklings, welcome back to I Am Geek where we are still sort of in the midst of a content dry spell. You know the season is starting to fade away when one of the biggest lead stories for the week is a made for tv movie that is trying to be the next Sharknado. Not that there's anything wrong with that. It's just not a show stopper of a news story. Here's hoping the next week or so sees business pick up as we head into back to school season and the return of a number of our favorite tv shows. And who knows, maybe somewhere along that we'll get a surprise trailer to something. Looking at you Star Wars… can you see Disney Expo?
Outside of that, there are things to get excited about this week so at least the Week In Geek can kind of get back into normal. Last week was more of a here is what I'm geeking out on column and this week actually has things to look forward to. Yay for looking forward to things.
With that all being said, let's get right into all that's good and exciting so you guys can start getting hyped and I can go back to my struggle to figure out what book to read next. I started one at lunch and after twenty minutes decided this isn't what I want to be reading right now thus putting myself in a purgatory of in-between books. It's quite awful so I've got a lot of work to do and not a lot of time to waste.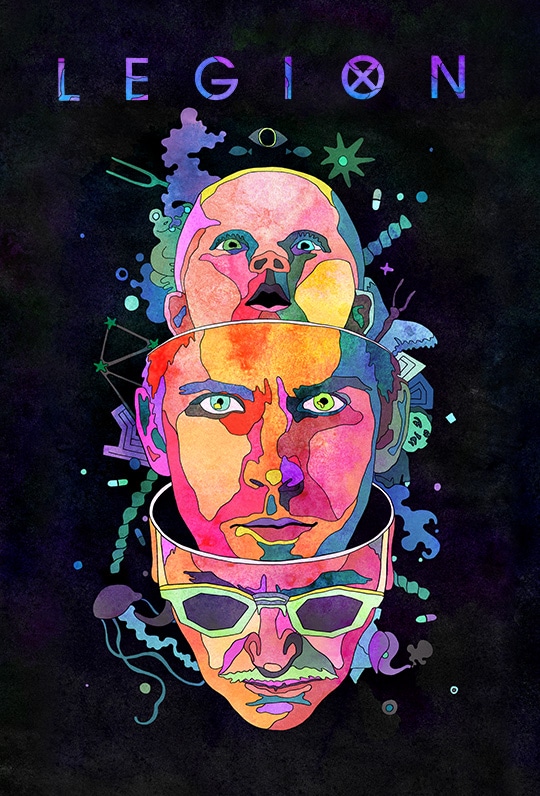 Legion series finale- Tonight will mark the end of an era as FX's Legion airs its final episode and I'm honestly sad to see it go. Legion has been one of those tremendously unique superheroes shows that kind of was the best thing about the X-Men for a long time. There is little doubt that Legion has demanded a lot from its audience and has hidden strong themes under random dance and rap battles, trippy imagery, and bonkers storytelling. At its core though, Legion is a show about finding acceptance, family, and tackling the age-old question, "am I a good person and worthy of love". I have zero clue how tonight's finale is going to wrap up, but I do expect it to be emotional, visually stunning, and a fine balance between layered weird and weird weird. That's the Legion way after all. Be sure to check my episode review tomorrow evening over at Fan Fest News!
Zombie Tidal Wave- It seems that the well has run dry on SyFy's Sharknado series but the station is not ready to get ready of monster related water catastrophes. Nope. Ladies and gentlemen, I present to you… Zombie Tidal Wave. Now I can't take credit for this discovery, that actually belongs to my sister who has already set up a viewing party for Saturday, but I would be a fool not to share this with you guys. What is Zombie Tidal Wave? Well… it's exactly what you think it'll be. It's a tidal wave. Full of zombies. If a tornado can have sharks who are we to discount tidal waves filled with zombies? First of all the premise is kind of terrifying. Think of a tsunami hitting a city, something that is scary within itself. Now, picture that tsunami being filled with zombies. Yeah, not good at all. I expect nothing but mindless fun here, weird puns, and the surprising celebrity cameo as SyFy looks to usher in a new water-related mayhem franchise for our summers.
Good Boys- It seems like it's safe to say that the summer movie season is pretty much over. After Hobbs and Shaw, there really aren't any more "blockbusters" to steal the box office cash. Usually, that's a sad feeling. The sense that summer has run out of movies marking the end of a season that goes by in the blink of an eye, but I would argue that this actually opens the door to some potential awesome. Case in point, Good Boys. A film from Seth Rogen that takes the premise of Superbad and then makes the kids… younger. I fully expect this thing to be ridiculous, raunchy, slightly endearing, and all types of funny. And who knows, maybe it becomes a secret hit. A movie that can generate some good buzz and end the season strong. I honestly think we have another one of those movies releasing next week (and you'll have to read next week's column to find out what I'm talking about), but Good Boys has potential to be that film that comes out of nowhere and leaves everyone talking.
There you have it Geeklings, all the things that you can use to help distract you from your workweek. What are you looking forward to the most? As always, if you've got something you're all types of hyped for be sure to share in the comments. Or you can find us over on Twitter @iamgeek32. Sharing is caring. I'm not sure if I'll be back tomorrow as I'll be writing my final review for Legion and I already know Thursday is a bust, but hoping to have a more regular writing schedule in the coming week. Stay strong Geeklings and let's ride out this wave of no content together. We're going to be fine.