Geeklings, what is going on? How was everyone's weekend? Did you spend it binge watching Luke Cage like good little geeks and geeklets (oooooh, that might be something I use again)? I only got four episodes in myself and had to give up writing the reviews for Fan Fest. I wasn't pleased but there was just no way that I could have done the show and the site service by watching so late after work. Plus on top of that I do want to maintain some semblance of a social life, and needless to say, Luke Cage had to be cut. I still have the Walking Dead in a couple of weeks so I'm pumped about that, and now I get to kind of relax and watch the show which is nice. Just take in all the goodness. I've really enjoyed the hip hop elements of the show and how it's reminded me of awesome albums I haven't listened to in forever. As a matter of fact, when I went for my run/walk today I went old school listening to some Tical by Method Man. Been years since I listened to that album front to back. Looks like Luke Cage is awakening those hip hop roots in me. On top of that the show is pretty badass and Mike Colter just straight up kills.
Let's see, what else is going on? I know I've been away for most of the week. It's not that I don't want to spend time with you guys, as a matter of fact, I love spending time with you guys. I think I've been a little burnt out over the last couple of weeks between work and trying to be social and what have you. The good news is I'm on vacation this week so plenty of time to refuel and write up columns for I Am Geek. Get that blood flowing again. And what better way to do that then with a brand, spanking, new Week In Geek. Woooohooooo!
1. NYC Comic Con- It's finally here Geeklings. October is my favorite time of the year for a lot of reasons that aren't just Halloween related. Football, fall weather, pumpkin beer, it's okay to eat soup again, and of course NYC Comic Con. I schedule my fall vacation around this con every year and I have never been disappointed. This year will be Jennifer's second year going, and now that she has a lay of the land and knows how things work, she's even more excited than last year. I'll be going two days this year (Friday and Saturday if anyone wants to meet up reach out to me on our Faceyspace page) and already have a pretty full agenda besides wondering around in a geeky haze. Friday we've got a photo op with Eleven and Hop from Stranger Things (I've never been more excited to meet a twelve year old before hahahaha) and then immediately after that we got to hoof it a couple of blocks because there's going to be a Mr. Robot book panel that will be selling advance copies of Red Wheelbarrow (Elliot's notebook in the show) that can be signed by show creator Sam Esmail. Then probably back to the con for more wondering. Saturday will be all about hitting up things I've missed and trying to go to MSG to see the Walking Dead panel. Like I said, a full couple of days but I get to go with my P.I.C. and couldn't be more excited. Be sure to pay attention to our Faceyspace page as there's a good chance we'll go live once or twice.
2. The Flash season 3- It's been great as all my favorite shows have slowly been returning to the small screen, and starting Tuesday just about all my favorite super heroes shows will be back as well (Legends of Tomorrow is still like a week or so away). Things start off tomorrow night (for me anyway, I know Supergirl is back tonight) with season three of The Flash which will be covering the Flashpoint story arch. I'm excited to see how the show makes changes to a story that included most of DC's big names (Batman, Aquaman, and Wonder Woman were all central to the comic storyline) and makes this television universe fit. I think it's become sort of obvious over the last couple of years that Flash has become the center point of the CW super hero universe (sorry Arrow) and all things flow throw Central City. One has to wonder at what point does Barry's changes to the time line effect shows like Arrow, Supergirl, and Legends of Tomorrow. They've already announced that Flashpoint will not be an all season long storyline so maybe a massive crossover? Perhaps? I wonder…
3. Arrow– I'm still a fan of Arrow but I feel that the show has not reached the highs of season two in quite some time. Don't get me wrong because I believe there have been some pretty excellent episodes, but season two stands as a high mark that the show has yet to clear. With that being said though the filming style of the fight scenes has been terrific over the last few seasons and I think we've seen Oliver grow quite a bit. If we could move a little past his whole relationship with Felcity and maybe focus on some street level crime fighting I'd be all for it. Plus this season it looks like killing is back on the table so yay revisiting pre-existing storylines. Stephen Amell works his ass off and believes in the show and it's time we brought things back to the basics. Get Arrow to those season two highs again and if the trailers are any indication then this future looks gritty and promising. I'm all for it.
4. Champions– I have been looking forward to this series ever since it was announced however many months ago. I started reading All New All Different Avengers (my least favorite comic book title) mainly because Ms. Marvel and Miles Morales (probably my two favorite characters in comics as their stories are both fresh and packed with tremendous character moments and heart) were going to be parts of the team.Through that book I cam to really enjoy Nova (I actually just bout the first nine issues of his book on Comixology for $.99. Pretty pumped about that purchase) and feel that Marvel is building something special with these core three young super heroes. Now mix in Viv from The Vision (the best comic book you should be reading because this thing is brilliant. Like Matt Fraction Hawkeye levels of brilliant) ,  young Cyclops, and a different Hulk… yeah this book has the potential to not only be very good but extremely important to the overall Marvel universe. My only complaint happens to deal with the release date. Yes I'm jonesing for this book but Marvel and it's delays on Civil War II have kind of screwed things up. Champions will be dealing with the fall out from Civil War which is still on going. This same thing happened last year during Secret Wars, and I worry that some of Civil War II will either be ruined or deemed unimportant now. Which is kind of a big deal considering that this event hasn't been very good. Here's hoping we can look past that as Miles, Ms. Marvel, and Nova start to get the main universe love they so rightfully deserve.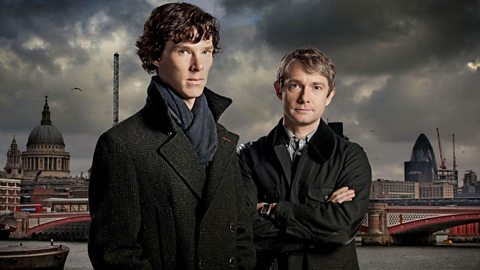 5. Sherlock– Confession time Geeklings. I tried to get into Dr. Who a couple of times but couldn't do it. I really felt that it was something that fit into all of my Geeky needs. Space/time travel, huge pop culture references and staying power, an awesome set of pop vinyls, cult following. On paper Dr. Who had it all. I did like three or four episodes of Doctor Nine and just wasn't feeling it. I really wanted to stick it out to Doctor Ten and probably should have started with his season, but now it's no longer on Netflix and I'm not that committed. Why am I telling you all this? Well, I'm glad you asked. I figured since I failed Dr. Who then I should at the very least give Sherlock a good try, and I'm happy to report that I'm in. Jennifer is also as we were only ten minutes into the first episode and she turned to me and said "I already love this" but I suspect some of that has to due with a huge Cumberbatch crush. Just saying. We're only two episodes into the first season but Cumberbatch and Freeman have such tremendous chemistry together (obviously I've been a fan of them outside of these rolls so seeing them together is a geeky joy) and while the episodes are mini movies they very much feel like television episodes. I kind of dig that uniqueness. The second episode of season one was alright (no where as good as the first) but I've heard that the show really takes off from there. Unlike Dr. Who I'll be sticking around for the ride.