Last night I came home from work, ate some delicious pasta meal that the Adorable Creature created, sat in my chair and watched the season finale of Barry. It was all quite lovely. The Adorable Creature is quite the cook and Barry is quite the show and it really was the perfect recipe for concluding a Monday. While I sat in my chair though, unwinding from a long ass day, I started thinking. We're not even halfway through the year but I've seen some pretty awesome episodes of television thus far. I mean, like really good stuff. Which got me thinking even further that maybe I should comprise a list of my top five favorite television episodes of 2018 and share them with you. Yes, you!
Which brings us to today and that list. Just a couple of quick notes before we jump in. I sadly don't have the time to watch everything. In fact, I barely have enough time to do the things I want when I want to. Often times I have to pick and choose what I'm going to do. "I only have enough time for one so is it read comics, play video games, or catch up on The Flash"? Then I have a Sophie's Choice moment and go about my business. Keeping that in mind I will say I have not watched any of The Americans, I'm super behind in Westworld, haven't started Handmaid's Tale (want to read the book), nor have I started Cobra Kai. I know, with that list it seems unlikely that I'm doing the best episodes of television justice, but I can only speak for what I've watched and comprised the list accordingly.
So, that's what you got here. Out of all the tv I've watched so far in 2018, and there has been quite a bit, these are my five favorite episodes. And one honorable mention because every list needs an honorable mention.
Honorable Mention- "The Burrito" The Good Place– I was late to this party but let me tell you something Geeklings, The Good Place is for real. The Good Place is one of the smartest, funniest shows on television and packs in a lot of heart. There's also that underlining weirdness that seems to accompany most Michael Schur programs that I find so freaking delightful. These characters are so well balanced and wonderfully fleshed out and that's what makes "The Burrito" such a fantastic episode. Here is a culmination of two seasons of character work and we get to see just what this crew has learned during their time in the Good Place. Who has made progress, who hasn't and are they actually being judged by a burrito? A solid set up for the season finale and in a lot of ways everything I love about The Good Place.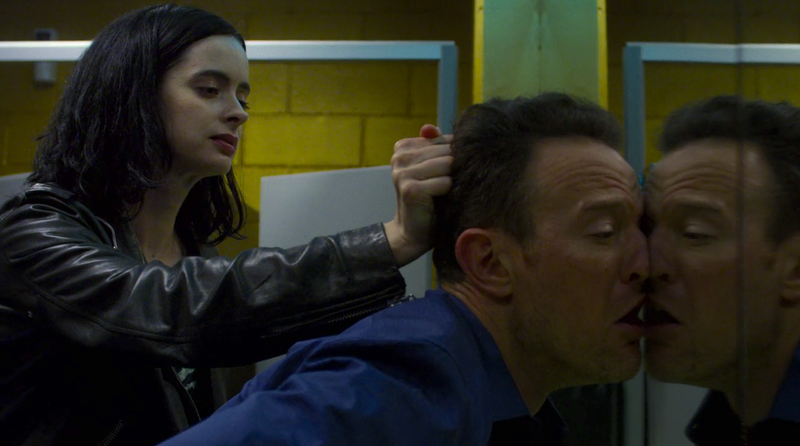 5. Jessica Jones "I Want Your Cray Cray"- Looking beyond the episode title this was defenitley the highlight of a stellar second season of Jessica Jones for me. Dedicating an entire episode to a flashback can be tricky, especially when it falls close to the middle of the season, but Jessica Jones not only pulled it off but used this episode to flesh out their big bad as well as their central character. "I Want Your Cray Cray" shows us a Jessica Jones before Killgrave and before her jaded sense of life settles in. We see a mother who just wants to see her daughter even though she doesn't understand who that person is. There is some tremendous character depth here and an ending that sort of breaks your heart. You walk away with a better understanding and appreciation of why Jessica is the way she is.
4. Star Wars Rebels- "A World Between Worlds"- Star Wars Rebels just might be some of my favorite Star Wars storytelling. Ever. For serious, and a highlight of that storytelling was the show's final season as it was filled with heavy, dark, brilliant storytelling that not only expanded the Star Wars universe but added new depth. "A World Between Worlds" is an incredibly important episode concerning the expansion of the Star Wars universe and connects all of the films together in one crazy, magnificent way. There's not much I can say without spoiling here but there's more to the Force than you might understand and it's possible to believe that the events in a galaxy far, far away are happening on an infinite loop. "A World Between Worlds" is fantastic storytelling with some true surprises and leaves you wanting to dive even deeper into Star Wars lore.
3. Legion– "Chapter 14"- If you haven't had a chance be sure to head over to Fan Fest News because I do a massive episode review on this one, but I'll try and give you the condensed version here. Legion is a show that thrives on being trippy and presenting ideas that leave your face in a puddle on the floor. "Chapter 14" took that to whole new level as we saw David create a number of different timelines in order to deal with his massive grief. What we got was an in-depth look at what makes David tick, a bigger idea of how powerful he is, and just what keeps David anchored. The beauty of this episode, besides Dan Stevens performance, is how we're given so many different David's but are instantly invested in all of them. "Chapter 14" is everything that makes Legion great.
2. Barry- "Chapter One: Make Your Mark"- I can not speak highly enough of the premiere episode of Barry. I loved the season as a whole, but the pilot was something tremendous and sort of refreshing. It ended and I immediately woke up the Adorable Creature because I was so excited about it. You know the feeling where you just have to talk about something or you'll burst? That's how I felt with "Chapter One…". I've always been a fan of Bill Hader so seeing him have his own HBO show gave me a rooting interest, but the way this episode balances its dark humor, action, and character development was outstanding. I instantly needed more of this universe and had such a deep appreciation of Bill Hader, not only as an actor but as a writer/director. After this, I was hooked.
1. Atlanta- "Teddy Perkins"- I wrote a long, in-depth review on this episode for Fan Fest (which you can find here) and I still feel like I could talk forever about it. The truth is, "Teddy Perkins" is the best horror movie of the year. Hands down. In fact, I saw A Quiet Place the following night, and while I loved the film, I felt it didn't scare me as much as "Teddy Perkins" did. One of the best things about Atlanta is how you always have to expect the unexpected, and season two really celebrated that notion. A number of these episodes explored some dark storytelling and there was none darker than "Teddy Perkins". What can I say about this episode? It's mesmerizing. It's horrific and uncomfortable. It has a perfectly placed comedic element to break the tension only to crank it back up to eleven. It has one of the most amazing performances I've ever seen in Donald Glover. From the way it's shot to the score, everything about "Teddy Perkins" is perfect. This episode will stay with you long after you've watched it. Hell, I watched it again immediately after it finished. You need this in your life. Just masterful.
There you have it Geeklings, these are my favorite episodes of television thus far this year. I'm sure this list will change as the year goes on but so far this is where we're sitting. How about you? What would you put on your list? How do you feel about my list? Sound off in the comments. If you'd like to talk about any of these episodes you can find me on Twitter @iamgeek32.