Geeklings, how are we doing on this fine Monday? I have to say, I'm doing pretty swell. I'm still reeling over Captain Marvel and have switched into full MCU mode with Endgame literally right around the corner now. At this point, I just wish I could stay home from work and watch all things MCU and write about them, but nooooooo Kevin has to have a 9-5 job to pay the bills. Life can be so cruel sometimes.
You know what isn't cruel? Mapping out this week's full writing schedule on a Monday. Saaaaaaaay what?! That's right Geeklings, I spent my morning mentally prepping this week's content on I Am Geek and let me tell you something, you guys are in for a treat! We've got more Captain Marvel fallout to cover, MCU goodness, Game of Thrones, comic books, and more. And if you head to Fan Fest News during the week you'll see my reviews for Deadly Class (only two episodes left!) and Doom Patrol. I love knowing we've got a full week together, and who knows what will suddenly pop up forcing me to change direction. Something like the final Endgame trailer?… I'm not saying it's going to happen but wouldn't this be an awesome time to drop it right as everyone is celebrating/glowing in that Captain Marvel goodness? Just a theory.
I'll tell you what isn't a theory though, a brand new edition of the Week In Geek which is what your eyeholes are currently reading. New content isn't the only thing to be excited about right now at I Am Geek so let's break down all the best things to help make your work week a tad bit better. Starting with…
The Twilight Zone– Man, Jordan Peele is about to have himself another tremendous year. Us drops later this month, and already has a perfect Rotten Tomatoes score, and immediately after he will be producing/hosting a reboot of The Twilight Zone! Dropping April 1st, not kidding, on the CBS streaming app we're about to get a reimagining of classic Twilight Zone episodes with some pretty outstanding casts. John Cho, Ginnifer Goodwin, Greg Kinnear, Tracy Morgan, Kumail Nanjiani, and Seth Rogen are all said to be involved and if this first trailer is any indication then we're looking at something pretty special here. My hope is that The Twilight Zone will be a healthier alternative to Black Mirror. By that I mean I would like to be freaked out and disturbed but not compelled to hate myself and cry alone in a bathtub after each episode. Time will tell on that front but the return of The Twilight Zone is definitely something to be celebrated.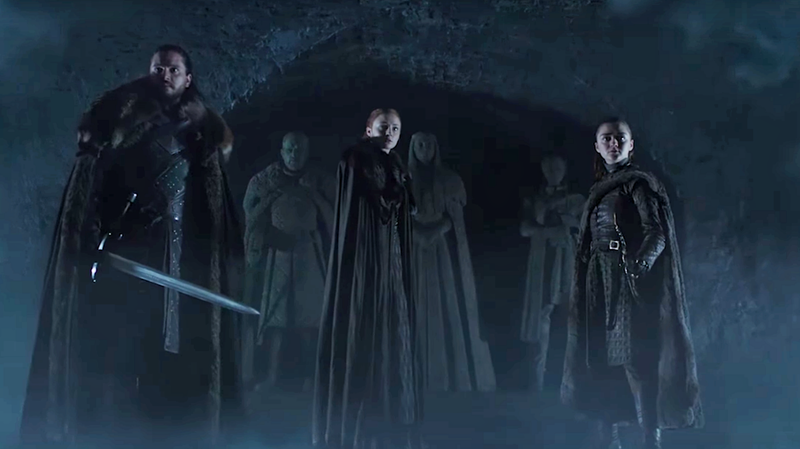 Game of Thrones First Two Episode Lengths- And you thought last week's trailer breakdown was going to be all the Game of Thrones you were going to get for a while? False. I've got big plans leading up to the premiere of the final season and some of those plans might even involve a weekly theories column. Oh yeah, we're going big this season Geeklings. With that being said there isn't a whole bunch to be reported today but we do know how long the first two episodes of the season are going to be. Coming in at 54 minutes and 58 minutes respectively, I fully expect these two episodes to be the shortest of the season before things get truly epic. We are almost there but the wait is killing me.
Triple Frontier– The amount of content that Netflix is spewing out is just bonkers. It's damn near impossible to wrap one's head around it. There must be so much falling through the cracks at this point, and I'd be willing to dedicate my time to watch as much of it as possible. Just hit me up Netflix. I'm here for you. With that being said, a movie sure not to fall through the cracks is the upcoming Triple Frontier which seems like one of those big-budget war movies that should be on the big screen but has instead made the transition to the streaming service. The move is a bit surprising but I fully understand. After seeing the trailer for Triple Frontier, I was interested but already knew I wouldn't pay to see it in the theater with ticket prices as they are. Now with the film heading to Netflix I know, I'll be watching it opening weekend. And at my leisure too which is pretty fantastic. On top of that, the movie looks intense, it's been some time since I saw a really good war epic, and the cast is quite excellent. Former Batman Ben Affleck, Charlie Hunnam, Oscar Isaac, and Pedro Pascal round off a kickass cast and look to give you something badass to watch this weekend.
Final Season of Arrow– It was announced last week that the CW's Arrow would be calling it quits after next year's ten-episode eighth season. While saddened by the announcement I can't say that I'm all too surprised. If you refer back to our column last December about the upcoming Crisis On Infinite Earths then you will see that I may have mapped the perfect way to send Oliver Queen off into the sunset… or into the ground. Depends on your point of view. Give it a read and emotionally prepare yourself for the conclusion of the show that started it all for the superhero shows we have on television today.
There you have it Geeklings, everything you need to make your week fantastic. What are you looking forward to the most? Be sure to sound off in the comments or throw me a line on Twitter @iamgeek32. Be sure to stay tuned to I Am Geek all week as there's going to be a ton of awesome content for you to dive into. I for one can't wait!