Geeklings, if you've come this far than it appears that you are on the cusp of surviving another Monday. Congratulations to you. Mondays are no easy feat, as a matter of fact I would argue that they suck the big one. Yet here we are, you're almost done. Hopefully you're even home and sitting in your favorite cheek supporter (that's chair) having just ate a tasty meal and getting ready to go in to full on relax mode for the rest of your evening. That sounds like a lovely picture actually and something I am very much looking forward to… in two and half hours. Sigh
In the mean time it's Monday evening, you've worked hard and you deserve a reward. A reward you say? Yes a reward. You know how we do here at I Am Geek, if it's Monday than we are breaking down everything awesome in the week ahead with our always spectacular Monday column… the Week In Geek.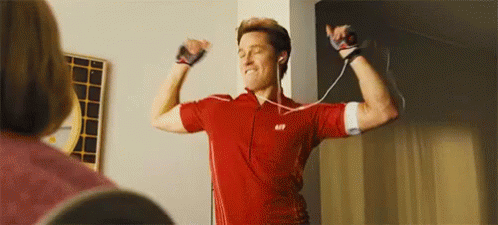 Just as a sidebar, I hated Burn After Reading. Hated is a strong word but I seriously did not like it. Come on, that was a looooooong way to go for that resolution. A looooonnnnggg way. But I digress. There are way awesome things to start discussing and what better time than now.
1. American Gods– A couple of years ago when Hannibal was cancelled I mourned. Hell, the fact that it's been a couple of years now makes me sad all over again. I really hope we get some sort of mini series at some point. How else are we going to get Fuller's adaptation of Silence of the Lambs?! How I ask, hoooooooow?! Sorry, that's not what this is about but it does play a part. A couple of years ago when Hannibal got cancelled it left a hole in my beautifully, disturbing, enticing, character driven television shows…until now that is. Bryan Fuller is back, finally, adapting another tremendous novel (this time by Neil Gaiman) and bringing that visual flare that we've come to love from his shows. It has been quite some time since I last read American Gods but what I do remember is that the world is filled with gods and mythological creatures and their ability to survive and flourish depends on whether or not people still believe in them. Plus I think there was someone going around killing gods too. Maybe? Like I said it's been awhile but everything I've seen from the trailers look gorgeous and breath taking, and I'm very much looking forward to becoming reacquainted with this universe. Chances are I'll re-read the book before the year is over.
2. Flash/Arrow Return– The absence of both Flash and Arrow these last few weeks has allowed Jennifer and I to make a lot of progress on watching Sherlock. As a matter of fact we're one episode away from starting season four, and while a part of me wants to continue our slow binge watching of Sherlock, I'd be lying if I said I wasn't excited about the return of my favorite CW super heroes. I think we've only got about five episodes left of each (only five?) which means we're going to start steam rolling towards the finish line. Arrow is currently the best it's been in years and the Flash has a whole bunch of time line issues to sort out. If things keep at the pace than this next month of super hero television should be all types of awesome. Then I'll be able to finally finish watching the gift that is Sherlock. If you needed any more reason to be excited about the return of these shows than check out the Arrow sizzle reel that was just released as it is filled with tons of "hell yeah" kick ass moments. Can you say Deathstroke?
3. Hot Action Toys Life Size Baby Groot Figure- Oh. My. Effin. Gawd!!! I need this. Need this. Look at it, just look at it! It comes with interchangeable faces and outfits and hands and it's life size and, and and… ahhhhhhhh. Life size! Think of all the adventures I could get into with Hudson the Cat and Baby Groot. Think of all the Instagram pictures I could post. The possibilities are literally endless. This won't see release until 2018 but I'm already saving my pennies. I don't see the Fortress of Nerditude being complete until it's mine.
4. Cloak and Dagger trailer- I really grew to love Cloak and Dagger in Marvel's Ultimate comic line. Their interaction with Miles Morales and that gang of young heroes, who have seemingly all been destroyed because comics, were some of my favorite things about the books. When I heard about the show coming to Freeform (once ABC Family) I had my doubts. Honest opinion is I saw it being a whole lot of cheese and fluff and nothing of substance because ABC Family reasons. After the release of the first trailer I'm happy to report that I'm willing to give it a chance, and the show looked way better than I thought. Here's hoping that what the trailer presented translates into what the show actually is and not a Freeform misdirect. Cloak and Dagger have so much potential for great story telling on a social commentary level and on the MCU level (bring on Spider-Man!) that I'd really like to see them avoid the over dramatic teenage angst type shows that often find themselves on Freeform. I say this like I actually watch shows on Freeform. I just know the reputation they have.
5.Guardians of the Galaxy Awesome Mix Vol 2– There's not a whole lot I can say about this soundtrack as I've been openly avoiding the track listing since it dropped last week, which has been no easy task as it seems to be all over social media. But as of today I've been pretty successful. I think I've only had three songs spoiled. Maybe four? I already know that this is something that I'm going to own and play on constant rotation, but I'd rather experience the songs through the movie so they mean more when I play them through my ipod. Awesome Mix Vol. 1 is one of my favorite things to listen to and always leaves me feeling happy and I expect the same from Awesome Mix Vol. 2. The release of Guardians Vol. 2 is sooooooooo close. All that anticipation is starting to get to me. Maybe I should just listen to the soundtrack… no! I'll be strong. I can do this.