I watch a lot of television. No, seriously. I watch a lot of television. At any point in the year, you'll find that my DVR is bursting with shows or my Netflix's "Previously Viewed" will be a who's who of popular television shows. I just love tv. It has become my go-to source of entertainment. A lot of that has to do with this golden age of television we're currently living in mixed in with the fact that there is just so much story to be told in the television format. You know I'm a story junkie and television gives us the most story for our dollar. We get to fall in love with characters and spend more than two hours with them. We can grow with them, feel their pain, and root for their victories or redemption… unless this is Game of Thrones where chances are that character is already dead. Sorry.
There is still so much television I have yet to watch and spend a good part of every year catching up on shows I should have watched. This year alone I finally binged Sherlock and kicked myself for not getting on board sooner. There are other shows but I'm choosing not to embarrass myself (*cough, cough* Firefly *cough, cough*… but you already knew that and I'm working on it). Then you throw in the addition of new shows that become "can't miss" and it seems like I'll be watching television forever. I'm okay with that. The only problem is certain binge partners who watch at a much slower pace than I'm accustomed to, but that's a story for another day.
2017 was filled with great television and I tried to watch as much of it as I could. I will confess that I didn't get to watch all of it. I still haven't gotten to the latest season of Fargo or Atlanta (sorry), but these are shows that are on the top of my list for 2018. I'll watch them and when I do you better believe I'll report back on them either here or on Twitter… or both.
But enough about the shows I'm going to watch. How about the shows I did watch? Geeklings, this is my top seven favorite shows of the year, and yes I'm sticking with seven because it worked so well with the movies list.
7. Master of None– Aziz Ansari and Alan Young have created something genuinely impactful and relevant with Master of None. Words can't express how much I love this show. When season one was released it resonated with me as a thirty-something-year-old trying to make sense of life outside of his twenties. With season two I felt that the show found new footing with its characters and audience. We watched as Dev continued to make his way in the world as he battled finding a career, dating, potential love, family, and the twists and turns of life no matter how fair or unfair. That's one of my favorite qualities of Master of None, it's written, to be honest. Happy endings are great, and sometimes needed, but sometimes in order to make a show more impactful events have to unfold much like the would in the outside world. Master of None captures those events and the emotions that follow. Season two was a master class of emotion as I'm pretty sure I've lived through "First Date", cried through "Thanksgiving", and felt the heartache and longing of "Amarsi Un Po". It's unclear if Master will be returning for a third season but season two was a gift in relevant and poignant storytelling.
6. BoJack Horseman– I'm going to confess, I just finished watching season four of BoJack Horseman about a week ago. I had been watching and then got distracted by life and other things so I had to put the viewing off. I knew that I was going to be making my "best of…" list which meant I needed to finish BoJack Horseman in order to make sure I gave my list a fair shake. And dear god Geeklings, BoJack Horseman continues to be one of the best shows to tackle the heavy themes of existentialism, self-loathing, and that need to find purpose in life. Season four is heavy, in fact, the last four episodes of the season I needed various degrees of hugging. Whether it was the floor removing emotion of "Ruthie" or the in-depth/nonlinear exploration of not living your best life in "Time's Arrow", BoJack Horseman continues to deliver brilliant narratives that strike on the feels hard. It's easy to mistake this show as a cartoon about talking animals, but the fact of the matter is BoJack Horseman tackles some very serious concepts and delivers them in a way where you're almost overwhelmed with its audacity to address these subjects. Much like BoJack himself, the show continues to find new ways to explore life and what compromises its meaning.
5. Legion– If you recall, I came here way back in March to tell you all that you needed to be watching Legion, and after a full year of television, I'm here to tell you again. You need to watch Legion. Holy crap this show. Brought to you by the fantastic mind of Noah Hawley (the very same man who kills it with Fargo), Legion is a superhero show at it's most stylized and genius. In fact, it's so brilliant that there are still some people who don't know that this is an X-men show, but it is. There are plenty of easter eggs to look for, but that's not what makes the show great. That's its willingness to be unconventional, to be extreme, to be willing to melt your face as it tells a story about a young man with extreme powers and his ability to grasp them. As David, portrayed excellently by Dan Stevens, tries to get ahold of his abilities there are agencies looking to exploit, harness, or destroy him. Legion is a rollercoaster ride of stylized action with a fantastic performance from Aubrey Plaza who deserves award recognition for her villainous turn as the Shadow King, and a story/characters that leave you wanting more. Season two can't get here soon enough.
4. Stranger Things- Geeklings, I love Stranger Things. Just love, love, love it. While it may not be the number one show of the year it holds a number one spot in my heart. I said it before, and I'll say it again, Hawkins is magic. The Duffer Brothers had an almost impossible task with season two having to compete with the explosion of season one, but there was no sophomore slump to be found here. In fact, I would argue that season two told a tighter story that was lynched together by the emotions of a number of main characters. Whether it was Hop's second attempt at being a father, Mike on trying to make sense of life having lost a friend, Eleven trying to find who she is, or Will and his struggle to move on from the events of the first season, season two of Stranger Things told a tight story that not only grew the characters but expanded the universe. The best thing about season two of Stranger Things is that it gave us what we've come to love, didn't compromise the first season, and made us excited to come back to Hawkins. Oh, it also gave us Steve Harrington in all his badass, super mom glory.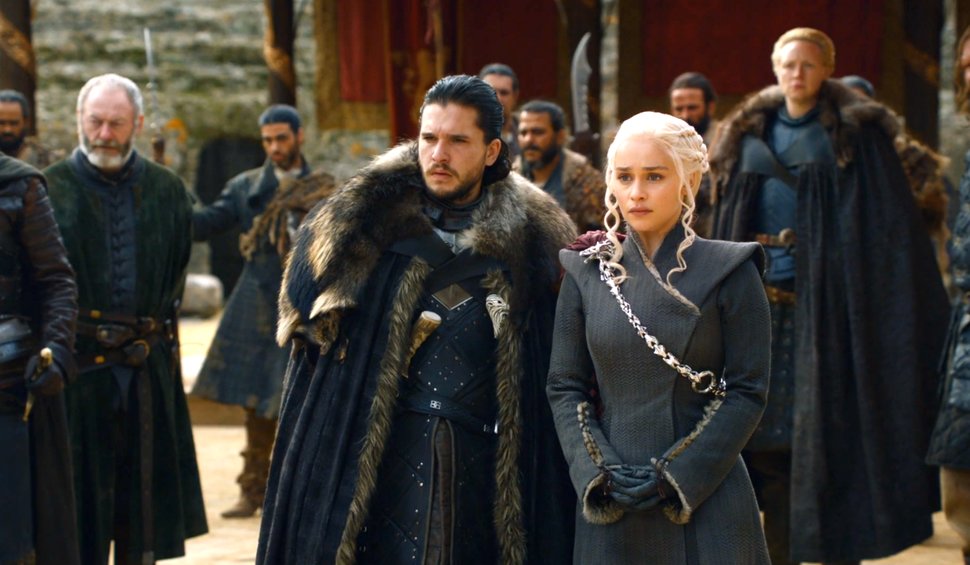 3. Game of Thrones– This is the part of the list where things started to get tricky. Anyone of the top three shows could have been number one but I had to make some tough choices here. Season seven of Game of Thrones was pretty outstanding. That's an understatement I know, but man did season seven deliver some seriously gratifying moments. From the Arya opener, all the way to ice dragons and Little Finger's sentencing, Game of Thrones was at the top of its game providing longtime fans with satisfying moment after satisfying moment and even one moment where we questioned if we were pro-incest or not… the jury is still out. The expedited travel may have irked some viewers but it really allowed the story to progress at a breakneck speed that we aren't really used to within this universe. All the pieces seem to finally be in place as we near our conclusion and season seven brought us a number of pivotal yet satisfying moments in a very uncommon Game of Thornes like move. This can only mean that the final season will kick us in the heart Red Wedding style, but it will almost be worth it. I want to say that the best thing to happen to Game of Thrones was freeing itself from George RR Martin's novels, as a book lover this statement kills me but as a television lover it's the truth, as the show is now allowed to exist on its own. Whether or not the endings of the show and books match up is yet to be seen but with the future of the books still unclear, thanks George, HBO's Game of Thrones is looking to give you the closure you need. And with the show coming in at such a consistently high quality what more could we ask for?
2. Mr. Robot- Mr. Robot could easily have been my favorite show of the year, and it was close, but I'm counting the top three as kind of a 1a, 1b, 1c type of deal. The third season of Mr. Robot was borderline flawless. Seriously. There were a number of complaints from fans about how the second season was too "slow" and didn't really amount to anything, and criticism like that always bothers me. It's okay for a show to focus on its characters and have the overall narrative move at a slower pace. I am a character driven story seeker and Mr. Robot delivers that in spades. The true beauty of season three is that it happened to make the events of season two better and even more impactful. We finally saw Stage Two go into action and it was horrific and brutal. This season was about tearing down the foundation of what we've known or been told and building something different. Something stronger, perhaps? I don't know, but Mr. Robot delivered ten truly fantastic episodes this season that not only have me thirsty for season four but has thrust me even deeper into this universe. Sam Esmail is not afraid to take chances and gave me two of my favorite episodes of television from any show this year. There was "eps3.4_runtime-err0r.r00" that was a tension-filled forty-five minutes presented as one long take, and then there was "eps3.7_dont-delete-me.ko" that was just beautiful in every way imaginable as it tackled the idea of struggling with life and redemption. Mr. Robot needs to be on your radar. You'll thank me for it. I'm already planning a re-watch starting in January. Time to take a deeper dive.
1. Rick and Morty– Hands down, Rick and Morty was my favorite television show of the year. After a super long wait between seasons, Rick and Morty returned with an April Fools Day premier that set the bar high for this third season. Looking past the introduction of the shezwan chicken sauce to the pop culture landscape, the premier set the tone for what was to become the darkest season yet for these characters and boy did it deliver on some truly great character moments and storytelling. Rick and Morty doesn't shy away from the fact that Rick is a monster, in fact, there are times when the show embraces it, and much like Breaking Bad it asks the audience to make their own decisions when it comes to Rick. Either you love him, hate him, or love to hate him. Morty, on the other hand, seems to be a byproduct of Rick's rage and stunted emotions and season three saw a Morty who edged a little closer to becoming Rick. Easter eggs, philosophical debates, Pickle Rick, and the shows dark unafraid humor really thrust it on to the pop culture landscape this summer, and the ride was worth the wait. "The Ricklantis Mixup" was my favorite episode of television all year, and just a brilliant display of the deep mythology, characterization, and lore Rick and Morty has developed. If you haven't watched it's time for you to get on board, and you've got time considering we have no idea when season four is coming. Season three is everything you want out of this show, and more. Intelligent television that tries to hide behind fart and pickle jokes, but once you peel back those layers you'll find that Rick and Morty runs pretty deep. That's its biggest reward.
There you have it Geeklings, here are my top seven shows of the year. Did any of yours make the cut? Do you disagree with my order of things? Were any of these shows a surprise to you? If so, then sound off in the comments below. If you'd like to talk more about the great television of 2017 you can find me on Twitter @iamgeek32. What did you watch and love? With this golden age of television, there's a lot to be consumed which makes us the big winners.