Typically April 1st is best known as the national day of fooling which is just a confusing way of phrasing April Fool's Day. A Day when you have that one family member or friend who always takes it just a little too far thus leaving a tension in the air that would make the Rock and Vin Diesel take notice. But for those of us who have spent absorbent amounts of time at Greendale Community College, to the point where loved ones and friends are more than slightly concerned, then we know that April 1st does not exist. No, April 1st has and always will be March 32nd.
And what a glorious March 32nd it is as my beloved show, Community makes its long-awaited arrival to Netflix. I can't even begin to describe the happiness in my heart today. If I was a cartoon character, I would be floating in the air because I'm so happy. Wow, that actually wasn't that hard to describe at all. Community has meant the world to me for a very long time and I'm so incredibly thankful for the existence of this show. I found Community at one of those transitional phases in life and the Greendale Study Group played a gigantic role in helping me escape the things that were falling apart around me. Not to get too deep here but watching episodes of Community helped keep me afloat at a time where I had a tough time figuring out what was heads and tails. For that alone, this show will hold a special place in my heart.
On top of all that emotional blather though, the show is quite amazing. I've often said, it's in the About page in fact, that if you were to open up my head you would see that it operates similarly to an episode of Communinty. This is a show that's tough to explain to others but if you like comedy, pop culture, shenanigan themed episodes, layers, pillow forts, paintball, and excellent character work then Community is exactly what you need right now. Dan Harmon, of Rick and Morty fame, has created something special here that opens the doors to us outsiders who may view the world just a little bit differently. To let us know that we're not alone. There are others like us. Just about everyone can find a home in Greendale both literally and metaphorically.
Call me optimistic but it feels like Community could be the comedy we need/deserve during these trying times. I could see it being the perfect counterbalance to Tiger King. Sure, I could be getting ahead of myself but like I said before, I'm cartoon character levels of happy today which is a lot different than how I was feeling yesterday.
So in honor of Community's arrival on Netflix, and the blind hope that this could possibly lead to the long-awaited movie, I thought what better way to celebrate March 32nd than with listing my Top Ten Episodes of Community! Now just as a preface, these are my favorite episodes and I understand our thoughts my differ. Feel free to list your favorite episodes in the comments or throw me a line over on Twitter @iamgeek32. There are too many wonderful episodes to list but these happen to be the ten I return to the most. I implore you to watch the series in full and come up with your own list and see how we compare. That's the beauty of Community, episodes speak differently to everyone. I'll be counting down from ten to one with little blurbs about each episode in between. You know, it's the common structure of Top Ten lists.
With that being said, why don't we get down to it my little blueberries. Let's kick off the I Am Geek Top Ten Community Episodes with our Honorable Mentions…
Honorable Mentions- Conspiracy Theories and Interior Design: Season 2 & Communication Studies: Season 1
10. Beginner Pottery: Season One- Jeff takes a blow-off pottery class for an easy A and discovers one of the students might actually be a pottery expert who is taking the class to showoff. Shirley and the rest of the gang take a boating class in the Greendale parking lot. Tony Hale guest stars as the pottery teacher and delivers. This episode includes incredible references to Ghost and Jeff Goldblum and is the exact kind of random bonkers that this show perfects.
9. Pillows and Blanket Forts: Season Three- Fun fact, the first time I watched this episode I couldn't laugh. That's how funny it is. It's so funny that it eclipses laughter. Do you know how funny something has to be in order to do that?! Abed's pillow town goes to war with Troy's blanket town in an episode that is presented like the Gettysburg documentary. Includes Chevy Chase in an outfit I've been dying to make a Halloween costume and one of my favorite lines in the entire series as Troy gives Abed "the all-tomato."
8. Modern Warfare: Season One- The very first paintball episode and maybe the very best one as well. This episode includes so many pop culture shout outs it's hard to keep track of. Die Hard, Scarface, LOST, The Matrix, The Warriors, and 28 Days Later all are referenced and lead to one of the greatest episodes in the show's history. The Dean announces a campus-wide paintball game and the last man standing gets priority registration for next year's classes. All hell breaks loose. I would argue that this is the episode that proved that Community was a legit comedy daring to be its own voice and committing to truly outlandish premises that somehow serve not only the narrative but the characters as well.
7. Intermediate Documentary Filmmaking: Season Two- After Pierce overdoses on the pain medication he's been taking, he calls the study group to the hospital and pretends as if he's dying. Pierce then gifts something to every member of the group and the gifts are more silent tortures than anything. Abed and his detachment from basic human emotions sees this as an opportunity to make a documentary. Guest-starring Levar Burton and might be my favorite Donald Glover performance from the entire series. First time I saw this episode I had to pause it because I was laughing so hard. We're talking full-on ugly face, gasping for air laughter. You'll know the scene when you get there but know you can't disappoint a picture.
6. Cooperative Polygraphy: Season Five- *SPOILER* … Pierce's death brings the study group together to take a group polygraph in order to find out who will get Pierce's inheritance. What follows is Pierce, even in death, putting the group up against each other trying to divide them. It also cashes in on some long-standing jokes. The discoveries here are hysterical and hit hard, the tempo is relentless, and guest star, Walton Goggins is phenomenal as the moderator. Wait till you hear what kills Pierce. Classic Community.
5. Epidemiology: Season Two- Do you like Halloween zombie episodes? Then "Epidemiology" is for you. When the Dean buys some cheap military meat for Greendale's Halloween party, a zombie epidemic quickly spreads throughout the school. It's made even funnier because everyone is in costume. George Takei plays our narrator, and gifts me a very fun voicemail, in an episode that is off the walls insanity. This is exactly the zombie goodness you would expect from Dan Harmon and company and proved the show had no interest in sticking to classic sitcom norms.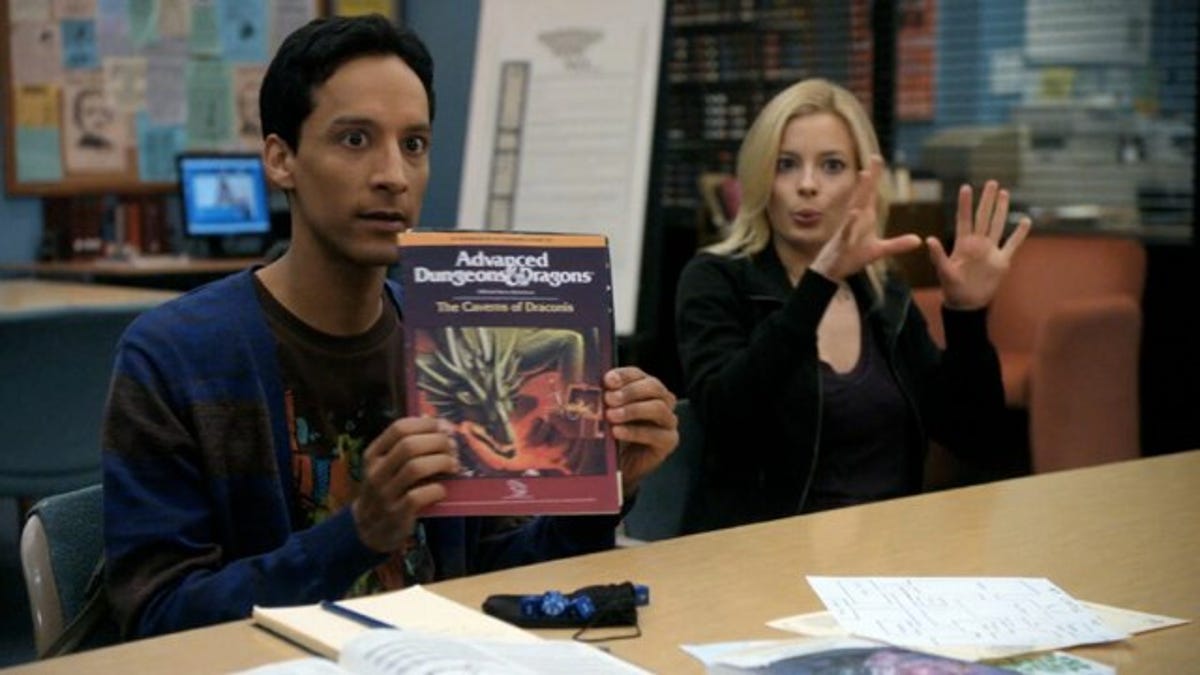 4. Advanced Dungeons & Dragons: Season Two- Community is directly responsible for making me want to play Dungeons & Dragons. I grew up in the '80s during a time where people believed that those who played D&D were goat sacrificing Satanists. Thanks, Mom. This episode sees the study group rally around Fat Neil who is close to suicidal because of his nickname and in order to show him life is worth living they plan a game of D&D. Fat Neil loves D&D. Hilarity ensues. Chang delivers big time in his cosplay ("magic user baby") and be sure to carefully watch Annie as she tries to secure a pegasus for the group during the episode's montage. Things are being said there.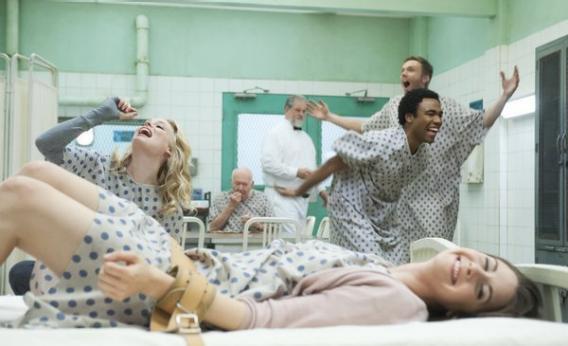 3. Curriculum Unavailable: Season Three- Fun fact, this is the very first episode of Community, I ever watched. It was during the life upheaval times and I was watching with my sister and her husband who were fans of the show and had been pushing me to watch. I turned to them and asked, "is the show always like this?" To which they replied yes and I knew right then that I needed this series in my life. "Curriculum Unavailable" is a fake clip show filled with some of Community's best jokes. The group have been suspended from Greendale and are seeing a therapist to determine if their behavior was the issue or was it the zaniness of Greendale. This episode holds a special place in my heart and could have easily been Number One. In fact, the Top Three here all could be rotated on various days.
2. Remedial Chaos Theory: Season Three- Let's just get this out of the way first, this is hands down the greatest episode of Community. I'm not doubting that. The writing is on the highest level. The character work is phenomenal. The jokes… the jokes. Everything about this episode is perfect. Perfect. The only reason it's not Number One is that I had to be honest with myself but this is the apex mountain of Community. Troy and Abed host a house warming party and the group roll a dice to see who has to get the pizza from downstairs. This opens the door to various different timelines and is the introduction to the show's Darkest Timeline joke. This episode is also responsible for the series' greatest gif. You know, the one where Troy is holding pizza and looking at a burning apartment. Chances are you've used it without even watching the show. I forgive you.
1. Cooperative Calligraphy: Season Two- Everything I love about Community can be found here. In a very meta move, the show pokes fun at tv bottle episodes (episodes that take place in one location to save money) and delivers the all-time greatest bottle episode ever. Don't at me. This episode is balls to the wall insanity and centers around Annie's missing pen. We get to the heart of the study group as friends as this bottle episode really breaks down their dynamic and characters in effortless brilliance. If you were to put a gun to my head, please don't, and told me to choose one episode of Community to watch this would be my choice. Every. Damn. Time. I love it so much.
There you have it, the I Am Geek Top Ten Community Episodes. What episodes of yours didn't make the list? What rankings differed from your own? We can discuss all you want in the comments or Twitter (@iamgeek32). Some of these would make great jumping on points but if you haven't watched the show before you're best off starting at the beginning. That about wraps it up Geeklings, I don't know about you but I plan on spending the rest of my evening binge-watching  Community until my eyes bleed. I hope you'll join me. Pop Pop!
#sixseasonsandamovie