That's not just the heat that has you short of breath, sweating in weird areas, and thinking that you were a victim of The Snap when you walk outside (sorry, I'm not calling it The Blip). No, a lot of that fire that you're feeling is coming from San Diego as Day Three of SDCC brought the fire, the heat, and any other hot analogies you're willing to make here.
Days One and Two were filled with nostalgia, trailers, and actors dressed as terrifying fur creatures, and day Three wanted to up the ante in every way possible. You don't believe me? Here let me show you everything that went down on Day Three of SDCC…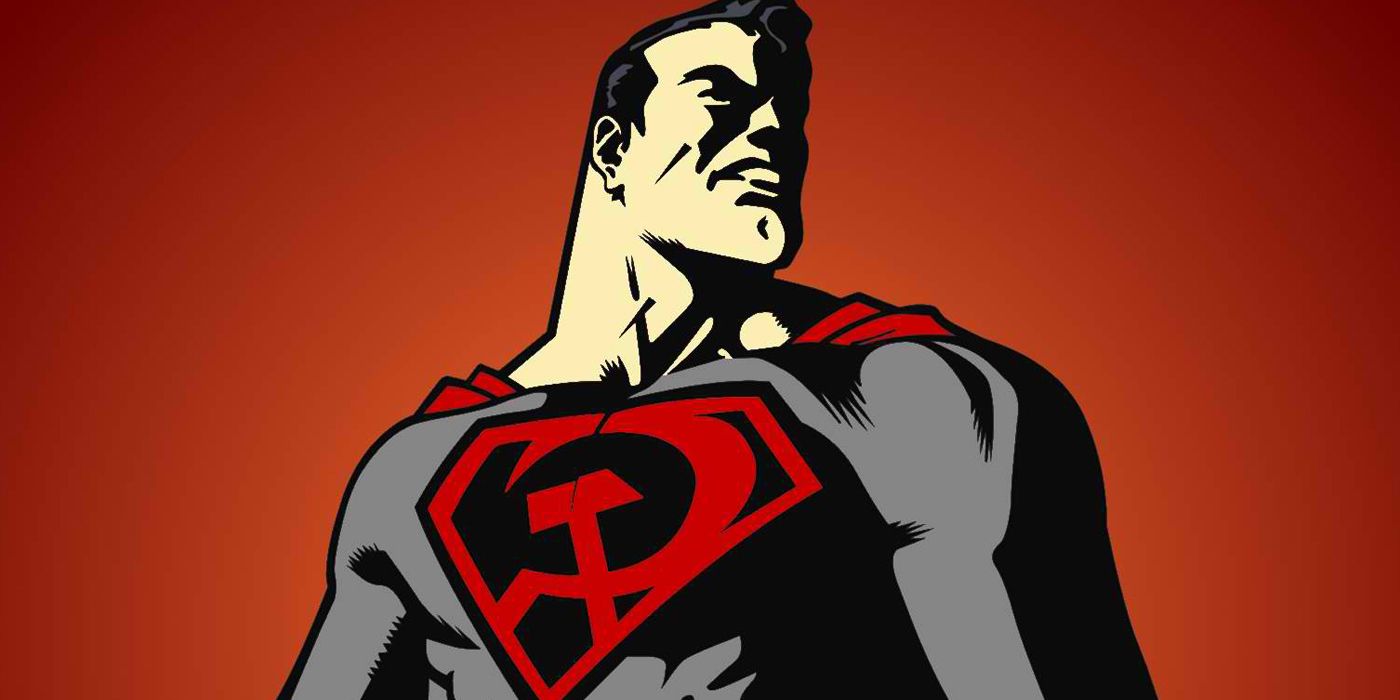 Superman-Red Son- DC came out early to announce that their next animated movie would be an adaptation of Mark Millar's Superman: Red Son. That's the one where Superman crash lands in Russia instead of Kansas and becomes a weapon for the Cold War. It's a great Elseworlds story that reimagines just what Superman is while also highlighting his importance. I would argue that DC's animated movies are leaps and bounds ahead of their live-action movies so there's a lot to be excited about here.
Eisner Awards- This actually happened on Friday night but the comic industry celebrated their own with their big award ceremony, and a ton of great books, writers, and artists were recognized. Tom King and Mitch Gerads Mister Miracle won big for Best Limited Series, Best Pencils, and under King's win for Best Writer (Batman, Swamp Thing, & Heroes In Crisis). Chip Zdarsky won for arguably the greatest issue of Spider-Man I've ever read. Jeff Lemire's Gideon Falls won for Best New Series and immediately want on my "to read" list. A number of really tremendous books were recognized and if you've got a minute go through the winner's list, and the nominations list, and start picking yourself up some excellent reading material.
Funko- Funko also announced a number of new pop lines coming out and there are some real gems here. The Umbrella Academy, Gladiator, Tombstone, Iron Maiden, Get Out, and Us are all going to see themselves apart of Funko's line-up and my wallet has more or less given up at this point.
Watchmen- My relationship with HBO's upcoming Watchmen series was kind of filled with some ups and downs. When first announced I was all in! Maybe Damon Lindelof (of LOST fame) would be able to give us the loyal adaptation we deserved. Sorry, and I'm sure this will make all the people who already hate me over my Zack Snyder comments thrilled, but the movie kind of missed the point on the entire story. It was well cast and excellent in some areas but surprise surprise Zynder didn't get his source material. I wanted to see Watchmen done correctly and this gave me some hope.
When the show was announced to be a remix that incorporated themes and events from the source material, I honestly had no idea what to make of that. It sounded a bit iffy to me and my excitement kind of wavered. Remix sounded like a strange risk that was sure to isolate the fanbase.
I can say this, after seeing yesterday's trailer… I'm. All. In. This looks incredible. Watchmen feels both familiar while being something entirely new. There is no denying that whatever a remix is, it's heavily influenced by the comic source material in a way that feels loyal while also allowing the show to be its own thing. This is probably my favorite trailer from SDCC and in my Top Three favorite things of the weekend.
Westworld season 3- HBO wasn't done with trailers with Watchmen, no, no, no. Season three of Westworld got themselves a panel that included new cast member Aaron Paul. Based off the end of season two, it would seem that Westworld is on the cusp of some major changes and this trailer definitely signifies the new direction the show could be heading in. Of course, this is Westworld so it'll be impossible to piece together just yet but taking things off the park site and into the real world adds a new dynamic to the series. Not to mention the visuals looked stunning here. The trailer gives off the impression that season three of Westworld will be the show reinventing itself, and I for one can't wait.
Star Trek: Picard- I think the last time I religiously watched a Star Trek series it was Next Generation so it would make sense that I would be kind of curious for the upcoming spinoff on Captain Picard played by none other than Sir Patrick Stewart. I have to say, after watching this trailer, it might be time to jump back into some Star Trek television. This looks nostalgic and something entirely new coming out of the Star Trek universe. Plus, the return of Patrick Stewart. What more could you ask for?! Data? Okay, we'll give you Data too!
DC Universe Shows- Both Young Justice and Doom Patrol were picked up for new seasons that will most likely be on the HBO Max streaming service that is coming out.
X-Men- If you're a frequent reader of my Pull List column, and you should be because it's awesome, then you'll know that Marvel's X-Men are about to go over a massive change. Marvel finally revealed what we can expect from X-Men comics this fall and there are some major shake-ups in our future. New teams, new creative teams, and new mutants all under the direction of Jonathan Hickman's flagship X-Men book. Marvel is going all-in on the mutants in a hope to return them to prominence.
Marvel Studios- Here we go. After taking a few years off Marvel Studios returned to Hall H to announce what we could expect for Phase Four and they did not disappoint. Like at all. Marvel didn't just tease some of Phase Four, no, they gave us allllll of Phase Four and it's pretty stellar. We're talking ten properties over a two-year span. Leaning heavily on the new Disney+ streaming platform, Phase Four looks to intergrade television series and movies while also changing the face of the MCU. This is some of the highlights of what we're working with.
Black Widow- Taskmaster is going to be the villain. In a giant sense of irony, David Harbour will be playing a character named Alexi (Red Guardian). Looks like this is going to be a prequel film but with the multiverse a very real thing who knows if Widow is actually gone.
The Falcon and the Winter Soldier- Yep, Falcon Cap in full effect here. Zemo is going to be the villain. A Disney+ series. Going to be all types of awesome.
Eternals- I don't know much about this property, but the cast is stellar (including Angelina Jolie, Salma Hayek, Richard Madden, and Kumail Nanjiani). Looking to expand the Marvel cosmos. Last time Marvel took a lesser-known property like this we got Guardians of the Galaxy so don't sleep on it.
Doctor Strange In the Multiverse of Madness- Scarlet Witch is going to be in this. It's going to have horror elements with trippy visuals. Taking a deep dive into the Marvel multiverse that is very much a real thing despite what Mysterio says.
Loki and Hawkeye– The two of these series aren't connected but they're both on Disney+ so I'm pooling them together. Loki will follow the adventures of Endgame Loki who is no doubt screwing up the time stream. Hawkeye will introduce Kate Bishop and have some more Ronin in it. Will it be based on Matt Fraction's run? The logo suggests that it could be.
Thor Love and Thunder- Not only are we getting the return of Chris Hemsworth and Tessa Thompson. Not only are we getting the return of Taika Waititi as director after his masterful job with Ragnarok. But we're also getting… Jane Foster Thor! That's right, Natalie Portman is returning as Jane Foster and she's going to bring the hammer! Based off of Jason Aaron's incredible Thor run, we might have a passing of the torch here as Hemsworth could be riding off into the sunset after this. Also, fun to note, Guardians of the Galaxy Vol. 3 is a part of Phase Five so maybe they make an appearance here too?
Blade- Thrown on at the very end of the panel, Kevin Feige called out Marvel's latest casting, Mahershala Ali to inform the world that he would be playing… Blade! That's right, everyone's favorite day walker is returning to the Marvel Universe just in time for … Phase Five. Which means we've got at least a two-year wait on a new Blade but let the hype begin.
Other- Before closing the panel Feige also mentioned Guardians Vol 3, Captain Marvel 2, Black Panther 2, the Fantastic Four, and mutants. These all seem to be Phase Five movies but it was just nice to hear them acknowledged.
There you have it Geeklings, all the best of Day Three of San Diego Comic-Con. We'll be keeping tabs on Day Four and all the goodies that come out today so be sure to check us out on Twitter @iamgeek32 or on Facebook for any updates. What was your favorite reveal from Day Three? Sound off in the comments and let us know. Now if you'll excuse me, the sun is trying to set me on fire. I'm going to find all the shade and take a possible nap. Until tomorrow my friends.